How To Bet On NFL In Canada?
Last updated:
14 minutes read
So, how to bet on NFL in Canada? Incorporate the proper knowledge and strategies to start having some fun and possibly winning some bets.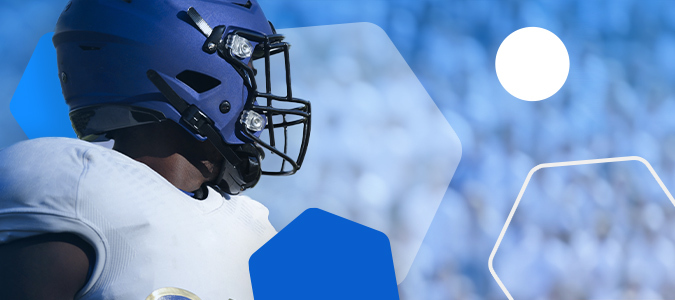 The props, the moneyline, single-game betting vs. multiple game bets, the point spread, futures, live and real-time betting? What are these terms and how do they apply to the National Football League?
Betting Basics
Wonder how to bet on NFL in Canada? There are as many ways to bet on football games as there are beliefs about the best way to win an NFL game. Dominant defense, high-powered offense, ground and pound, blitz's, zones vs. man, and the list can go on and on.
Similar to the game itself the terminologies for NFL betting are equally as varied: covering or going against the spread, props, futures, real-time, over/under, and that is not all.
However, just like football when it is broken down into its individual parts - the basics of NFL betting are easy to comprehend, yet multitudinal in their uses.
Main Steps To Make While Betting On NFL In Canada?
Football is riddled with talk about good 'fundamentals'. Betting on the NFL is fairly similar so let's lay out our own fundamentals for the main steps every person should make while betting.
Check if on-line betting is legal in your particular province

Check lists of available sites

See which one is offering the best odds

Make a decision and choose the best betting site

Sign up for an account

Enter your personal information. Be prepared to follow the sportsbook's instructions of what is necessary

Make a deposit

Most sportsbooks accept the popular payment methods, such as e-wallets and credit cards.

Use the information below to start making smart wagers with more odds of hitting
NFL Single-Game Betting
The NFL has just recently switched to a 17 game season, and it is possible to wager on more than one game at a time.
You could bet on Dallas and Houston, Green Bay and Los Angeles, or any other combination you could think of. However, starting out with single game wagers such as betting the point spread, the money line, and totals (over/under) is usually the best way to get introduced to NFL wagers.
In the following lines you learn how to bet on NFL in Canada.
The Point Spread
One of the most popular NFL wagers is betting the point spread. There are many ways to bet the spread:
point spreading
ATS (against the spread)
Regardless of the terminology, the spread is the sportsbooks' way to counteract the fact that not all NFL matchups are even. Some teams have better seasons, others have slumps and hotstreaks. It is hard to find a game where the odds of one team winning vs the other are split 50/50 directly for each side.
Thus, the utility of the spread is that it not only allows the parameter that the favored team must win, but that they must do so by a specific number of points (i.e. the spread).
Essentially the spread gives points to the less-favored team to encourage equal betting for both teams. Furthermore, there are most often "hooks" attached to these points. Hooks are half-points that help avoid the possibility of a push or tie.
We can illustrate the point spread by looking at the most recent 2021 NFL season SuperBowl (played in February 2022). The spread looked like this: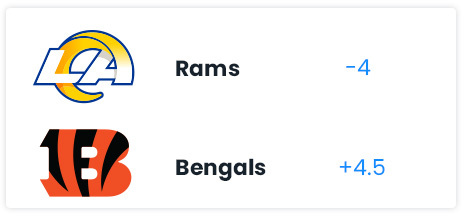 Let's break this spread into a list to help us visualize:
The Rams are the favorites in this example as they have the negative number next to them. 

If you bet on the Rams to win the game against the spread they need to win the game by at least 4 points for you to win your bet.

In this example the Rams are "laying" 4 points.

At the end of the game if 4 points are subtracted from the Rams total score and they still have more points than their opponent when they cover the spread.

The Bengals on the other hand have a positive number next to their team name. This means they are not expected to win.

They don't have to necessarily win the game for you to win your spread bet.

As long as they don't lose by more than 4.5 points you will win your bet. That being said, if they outright win then you would also win your bet on them.
The odds of winning on a point spread bet are normally the same for either team. The spread can change as time gets closer to the start of the game.
This is caused when many people wager on one team and to encourage bets on the other team sportsbooks will change the spread to counteract this favoritism. However, you needn't worry as once your wager is made the point spread for that bet locks in and will not change.
The Moneyline
A less popular but more easily understood bet is the moneyline. In this wager you are simply putting money on the team you think will win.
Each sportsbook will dictate the payout of your wager and attach that information next to their respective teams. Visiting the 2021 Super bowl game we can see that the moneyline for each team was:
The favorite team will most likely have the negative number as we see with the Rams here.
However, this number is different from the spread because it tells bettors that in order to win C$100 on the Rams they need to wager C$200.
The positive number next to the Bengals tells us information in relation to C$100. However, since the Bengals aren't favored they have a positive number and this means that if we place $100 on the Bengals to win then we could win C$165.
The moneyline bet is easy to understand but it offers a poor return for those who bet on the favored team.
This kind of wager might be best included alongside other bets, although there are more advanced strategies to try and lever a good pay-out from these types of wagers.
Over/Under
There are bets that allow you to forget about which team will win or lose and these are the game totals or as they are more commonly called 'over/under' bets.
For example:
In the 2021 Super Bowl we can see that the sportsbooks set the total for 48.5 points. This number is the total score of the game, irregardless of what each team scores. It only matters that the total score is either over or under this number set by the sportsbooks.
So, the Rams could have scored 40 points and the Bengals 10, and if you had wagered an 'over bet' then you would have won.
The odds for these types of bets are generally the same whether you wager the over or under option. Just like spread bets the over/under total can change throughout the week.
If one option has better odds this will normally be indicated in the sportsbook website and the total will be listed twice to show that there are different odds between the over or under wagers.
NFL Multiple Game Bets
The NFL recently switched from a 16-game season to a 17-game season. These matchups plus the playoffs means that there are a lot of games to wager on. Some profitable wagers are based on multiple NFL games, and if done properly they can be fun and add more excitement than single NFL game betting.
Parlays
To break it down a parlay is a wager that hinges upon more than one event. Re-visiting our Rams vs. Bengals Super Bowl, we might want to bet:
that the Rams will cover the spread
that the score will be over 48.5 in total
A parlay allows us to do both with one single stake. Or, in the regular season you could wager that both the Cowboys and the Packers will win their games; a parlay bet makes that possible.
Parlay bets can include many different combinations, most of which will be specified on the sports wagering website you happen to use. Yet, most sportsbooks:
Do not allow you to wager on the moneyline and the spread in the same game.
Specify that while making a parlay wager your potential payout is increased.
Establish that this potential higher payout comes with the caveat that all the events you wager on must go your way.
This allows you risk less for a potentially better payout, but there is no prize for getting four out of five of your wagers correct.
In relation to parlays it is all or nothing. You must be correct on all the events that make up the parlay to win your wager.
Teasers
A teaser is a specific type of parlay where all bets are against the spread or the total.
Essentially with teasers a bettor sacrifices better payout for a more favorable spread.
Most sportsbooks have the options of 'teasing spreads' allowing you to add or subtract numbers from the spreads of respective teams. However, this gives you as the bettor better odds and therefore will decrease your payout.
Teasers can also be used for total or over/under wagers. Many online sportsbooks offer a long list of alternative spreads to pick from in each game. However, as with parlays all the events in a teaser bet must go your way for you to get your payout.
NFL Prop Bets - Propositions Of Any And All Kinds
Prop bets have their most popular wagers during the Super Bowl, but they are available during the entire NFL season as well.
They are wages on a specific event or proposition in a game.
They can range from how many yards the first run play of the game will be, which team will score first, how many yards a QB will throw for, and many many more.
In situations where prop bets involve a single statistic the sportsbook will give a projected total and you must simply take over or under.
With all prop bets the sportsbook will make the odds and options very clear.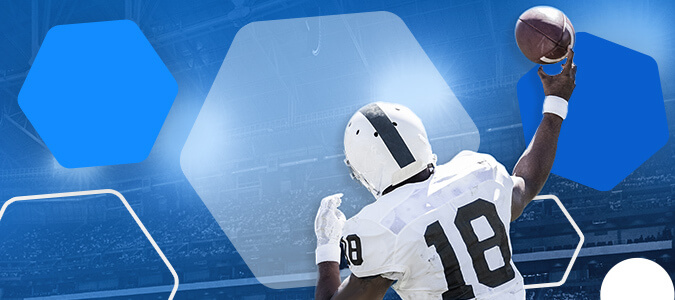 Some prop bets will also be a bit unorthodox, especially concerning the Super Bowl. For this game there can be online prop bets for the length of the American National Anthem, what color pants a head coach will wear, and even what color gatorade will be poured onto the head coach of the winning team. There are options for parlay bets in props bets, yet most sportsbooks only allow this option when all the events in the parlay bet are props bets.
NFL Futures
Futures wagers are what they sound like: you are wagering on a future event.
Common future bets are:
Who will win next year's Super Bowl?
Personal accolades of individual players such as sack totals or MVP awards
A good sportsbook will include a list of future options and a FIELD option. When betting the FIELD option you are choosing that none of the listed names in a future bet category will win. So, for example if the options for NFL league MVP are Aaron Rodgers, Dak Prescott, and Russel Wilson then you are betting that someone not from this group will win the MVP award.
Season Team win totals are also a common futures bet. Most times the total number of wins will be set by a sportsbook with a hook and then you can bet the over/under. Oftentimes these are called season props.
We should remember that most futures bets will close at the start of the season, depending on the sportsbook. Also, most sportsbooks will not allow you to paraly any futures bet, although some may.
Live And Real-Time Betting On NFL
Not only can you place your bets before a game, but bets can also be made during a live NFL game as well. Most sportsbooks will allow bets on the moneyline, spread, total and other types of wagers as well. Naturally, the lines and odds will vary as the game develops.
This type of betting also allows wagers on the outcome of the next play. These props bets can be general, such as will the next offensive play be a run or a pass, or they can be more specific as well. However, all live and real-time betting online will have to be done fairly quickly, as the window for these types of wagers is rather small.
NFL On-line Betting
The NFL is a mainstay in many North American households and most people at least know the teams and their respective cities.
Due to this popularity more and more American States and Canadian provinces are allowing On-Line NFL betting. The vast majority of States already have some laws in the books about on-line betting.
So, from Washington State and British Columbia in the North to Florida in the South and Montreal in the NorthEast, most Americans and Canadians should have access to applications and websites for NFL wagers.
Most Common Betting Strategies On How To Bet On NFL In Canada
If you wonder how to bet on NFL in Canada, following the strategies below may be useful:
Know your sportsbook
In the cases of teasers and parlays some will remove a push outright and some will count a push as a loss.
Some sportsbooks have more restrictions and others have better given odds. The best way to find a good sportsbook is to 'shop around' and see which one works best for you.
Follow the Line
Follow the Line 'May the odds ever be in your favor' so they say.
You can help yourself make this come true by closely following the money line and over/under changes throughout the week.
If an MVP caliber player goes down in practice, or the game-day weather is suddenly predicted to be severe this will change the odds for many wagers.
Sniff out the 'Sharp Money'
Sharp money is a term for action from a professional bettor. Generally sportsbooks adjust their lines so they can be on the same side as the professionals.
Given that they are professionals they tend to know more than the average joe bettor so most sportsbooks adjust to 'sharp money'.
As a bettor you can follow such line movements and then jump to the side of the professional bettors, who generally know what they are doing.
Follow 'Public Teams'
There are some teams in the NFL that pull in a huge fan base. These fans tend to wager with their hearts and not with their brains.
This can be good for you, if you know how to play it. These teams that have a huge fan base are called 'Public Teams'.
Think of franchises like the Green Bay Packers, New England Patriots, and the Dallas Cowboys. Due to their huge fan bases these public teams pull a ton of betting handle to themselves, even when they don't have the odds on their side.
To play this system you should place your bets earlier on in the week if you are betting on a public team. This way you can lock in your point spread before the rest of the public moves the line.
For example you could get the Green Bay Packers at -2.5 before the point spread moves to five points or higher.
On the other hand, you should wait until later in the week to bet against public teams, then the line can shift in your favor after a big amount of bettors throw their money down on the public teams.
Follow the Injuries
Football is a sport where one hit can end the season of a player, regardless of their all-star status.
Thus, knowing the status of players is an essential part of wagering properly. If Aaron Rodgers is sidelined with a calf injury, we can be sure that the opposing team will rush the back-up QB more and therefore the odds of sacks will increase for them.
If you are wagering on player props then putting some money on some of the defensive lineman would be a bet with better odds. Or the opposing team may have their own injuries on the defensive side, in which case you might choose the Packers to cover the spread.
Either way, an informed decision based on who is in and who is out for an NFL game is much better than guessing and relying on blind luck.
Side With Your Logic, Don't Follow Your Heart
Betting on Brett Favre and the Packers in the 1990's and 2000's was sure to have been an interesting bet. The way Favre played the game was 'back-yard football'.
Running out of the pocket, scrambling, laser balls, impossible throws; Favre would do anything to win for his team. However, he also is the record-holder for most interceptions by a quarterback in the NFL.
A smarter bettor in that time would have placed bets on Favre throwing some picks, and not so much on him and the Packers winning the game. Even though that is what his emotions might have told him to do.
Thus, by siding with our logic and not our emotions we can ensure that we make savvy bets. Stay up to date on injuries and trends.
Who has been winning at home?
Which primetime games have been seeing more points scored?
Which winning teams are most often covering the spread?
Answer these questions, use your logic, and avoid the cliche of 'following your heart'.
An area where logic can help the most is in parlay wagers. A new bettor might be tempted by the long odds and potential pay-out they can get on a 12 leg (part) parlay. Yet, the truth is that these types of bets rarely pay-out for those who wager on them. The best strategy for NFL parlay bets is to:
Limit them to two or three legs at max.
The pay-out will be less, but the odds of them actually hitting will be much higher.
Don't throw away your money on multi-leg parlay bets with crazy odds. These will hardly ever go in your favor.
Be A Coach
Have a Gameplan Coaches in the NFL know how to focus their elite players in the moments that count.
Every week they have a gameplan made specifically for their opponent. You should do the same with your NFL wagers.
Having a plan at the start of a new NFL week or NFL game will keep your emotions in tow and will give you a good idea of where to focus your wagers.
Decide how much of your money or bankroll you want to dedicate to certain bets.
Make a plan before a game whether you will focus on the moneyline, the spread, or props.
Stick to this plan and don't chase. Chase meaning that you go after and bet big on a new wager to make up for losses.
Very rarely will this go your way so stick to your gameplan and see it through.
Do not Overreact
So last week the Dallas Cowboys absolutely dominated the Philadelphia Eagles?
Surely they are on a hot streak and will now become one of the season's top teams.
Not so fast. These exemplary Cowboys could just as easily lose the next game to a lowly team that has no chance of even making the playoffs.
The NFL is designed to be competitive and the differences between 'elite' and 'sickly' teams is actually small when you break it down.
Thus, stay the course and don't overreact to big wins; the unpredictability of the NFL is part of the reason why it appeals to so many people. Make your gameplan, budget your money, choose your most confident games, and adjust accordingly as the season rolls on.
Give 'Live Betting' a chance
As we mentioned earlier in this article, live betting allows you to wager on a game throughout the duration of all four quarters, with odds updated instantly based on the play on the field.
This allows you to pick and choose the best lines and find an advantage over the sportsbook.
Props (as also mentioned earlier in this article), the spread, the moneyline, and over/under bets can all be made in live betting.
This type of betting presents great opportunities to hit winning bets, especially if you strategize and take advantage of some of our basic recommendations:
Know what the coach tends to do in certain situations.
Monitor what players are in the game or have been injured.
Keep track of what playmakers are being utilized in ongoing drives.
Know your Key and Common Numbers
Approximately 15% of all NFL games are decided by either three points or seven points.
Three points happens to be the points given for a successful field goal.
Seven points is the amount given for a touchdown with a successful extra kick.
The other most common margins of victory in an NFL match are 4, 6, 10, and 14.
Try and remember these numbers when you are making your live-betting or pre-game wagers.
Example
To Illustrate this we can think theoretically about the 2021 season Super Bowl.
Let's say the game went differently and the L.A. Rams had a small lead heading into the last quarter and they are favored by 4.5 points, yet you anticipate that the Cincinnati Bengals will play it to the end and it will be a close finish.
In this case you may want to wait a few plays and see if the line moves to 2.5, which is a better number for bettors, why?
Even if the Bengals tie the game and give the Ram's some trouble at the end of the game the Rams are still likely to hit their winning field goal and win by 3 points.
So, if you waited until the line moved to 2.5 your wager would still hit due to the three point difference. Reversely, if you find the less-favored team listed at +6.5 or +9.5 it is better to wait for the line to shift to +7.5 or +10.5.
Now you know how to bet on NFL in Canada. Whichever of the above strategies you choose, betting hockey online can be fun.
Keep these tips and topics in mind as you start on your path of wagering on NFL games. They will surely help you secure a good foundation and with more and more experience you just might put yourself into a good position to win from time to time, assuming luck is on your side.
FAQ
Betting on the NFL on-line is simple and easy in our modern times and is probably the best way to get started in NFL wagering. As far as what wagers and bets to start with, it may be best to begin with the basics such as betting the point-spread and the moneyline.

Yes, you can legally bet on the NFL in all of Canada. It is possible to do so by joining a provincial sports lottery.

There are huge amounts of NFL betting sites run by different sportsbooks online.

We recommend comparing them before deciding on the one right for you. Some sportsbooks will offer different promotions and 'free bets' when you make an account throughout the year.

If you are more traditional it is always possible to go to a 'brick and mortar' location such as the provincial sports lottery locations.

The process is simple:

Use our recommendations to find a sportsbook or betting site
Make an account with the one that is right for you
Link in your payment form (credit card, bank account, etc.)
Start wagering using our tips and strategies and have fun