How To Bet On UFC Fights In Ontario?
Last updated:
9 minutes read
Wonder how to bet on UFC fights in Ontario? This guide is here to help you choose the best bookmaker where you can bet on UFC events online. You'll also discover some tips and strategies to be more confident during the gamble. Let's get ready to rumble!
The good thing about UFC betting online in Ontario is that there are plenty of different betting options for all kinds of bettors.
However, our experts have put together this short guide to provide you with a concise review. This will help you prepare yourself for all your wagers and also get insight on how to bet on UFC fights in Ontario.
Is UFC Online Betting Legal in Ontario?
Yes, UFC online betting is legal in Ontario. The Ultimate Fighting Championship is one of the most watched and highly publicized sports in the world.
With so many fans around the globe, it's no surprise that UFC online betting has led to a rapid growth in popularity over recent years. What started out as something only a few hardcore fans would enjoy has now become a global phenomenon.
UFC betting online is one of the most popular sports for online betting fans.
The law in Ontario determines that betting on UFC is legal, yet situation is not the same in the rest provinces of Canada.
There are no special laws regulating the UFC industry outside of the standard igaming legislation passed by Canadian Parliament.
Some provinces banned sports betting in its entirety while others took a more liberal approach. This has encouraged people to bet on their favorite fighters and was considered a risky activity at times when it was unregulated.
Best UFC Online Betting Sites
Out of all the legal bookmakers in the province, we've picked the ones that have the best deals on UFC fights online. How to bet on UFC fights in Ontario? Here are the results of our analysis:
Bet365 UFC Online Betting
Here's what Bet365 Ontario provides in terms of UFC online betting:
Average Odd
Average Margin Odd
Types Of Bets
Live Betting
Live Streaming
2.20
9.6
Moneyline,
Fighter props
Yes
Yes
If you love UFC, then you'll want to head over to Bet365 Ontario.
This is one of the best places for UFC betting in Canada because it has a great selection of fights and sportsbooks. Bet365 also offers an exciting range of UFC betting odds, which is great news for anyone who wants to place a bet on the sport.
Rating: 4.8/5

Exceptional customer service, an extensive betting offer, fast payments, and live commentary. Great odds, great in-play betting, and the best mobile app.

Bet365 Review

19+. Gambling can be addictive, please play responsibly.

It is an internationally recognized bookmaker

Different banking options are available

The website and app are easy to navigate

Live streaming is available for new customers

REGISTER NOW
Betrivers UFC Online Betting
Average Odd
Average Margin Odd
Types Of Bets
Live Betting
Live Streaming
2.00
9.2
Moneyline,
Fighter props
Yes
Yes
Betrivers has a similar selection of odds available, but they also have a very convenient mobile app that makes it easy to place bets on your phone or tablet.
They have an excellent selection of bets including those on which fighter will win the match, who will win by knockout or submission, who will score more points during rounds, and much more!
Rating: 4.5/5

BetRivers is a user-friendly online betting platform with a large selection of betting possibilities.

BetRivers Review

19+. Gambling can be addictive, please play responsibly.

Banking choices that are both quick and convenient
Every sporting event imaginable has odds

REGISTER NOW
Caesars Sportsbook UFC Online Betting
Average Odd
Average Margin Odd
Types Of Bets
Live Betting
Live Streaming
2.75
9.4
Moneyline,
Fighter props
Yes
Yes
Caesars Ontario is a great option if you're looking for a site that offers odds on the popular UFC betting market.
They offer a wide variety of betting options and have an easy-to-use interface that makes it simple for new bettors to bet on UFC fights without needing any prior experience.
Rating: 3.5/5

Caesars is undoubtedly the most well-known gaming brand. The brand is a major player for sports bettors who have frequented the Las Vegas sportsbook throughout the years.

Caesars Review

19+. Gambling can be addictive, please play responsibly.

iOS and Android apps
Customer service available 24 hours a day, 7 days a week

SIGN UP
Proline+ UFC Online Betting
Average Odd
Average Margin Odd
Types Of Bets
Live Betting
Live Streaming
2.25
9.6
Moneyline,
Fighter props
Yes
No
Proline+ is another great option for placing your bets on MMA events like this one because they offer some of the best UFC odds available in Canada.
They also have fast payouts which means you'll be able to get your money back as soon as possible.
Rating: 4.6/5

Proline+ has been the only legal bookmaker in Ontario province for many years. A fully-packed live betting session and a cashout service are its outstanding features.

Proline+ Review

19+. Gambling can be addictive, please play responsibly.

Live betting supported
Mobile app for Android and iOS devices
Early cash out

SIGN UP
Fanduel UFC Online Betting
Average Odd
Average Margin Odd
Types Of Bets
Live Betting
Live Streaming
2.50
9.4
Moneyline,
Fighter props
Yes
No
Fanduel offers a huge variety of UFC betting options in Canada, including live betting and in-play betting options for those who want to place their bets as the match progresses.
They have a mobile app and a downloadable version that you can play on your computer. Their odds are updated by the minute, so you never have to worry about missing out on the latest updates.
Rating: 4.2/5

Wide range of sports to bet on, high quality of odds. If you are looking for a trusted, legal bookmaker, FanDuel should definitely get your attention.

FanDuel Review

19+. Gambling can be addictive, please play responsibly.

It is compatible with iOS and Android devices

Betting is safe and secure

Very fast payout time

Major odds types are available

SIGN UP
Types Of Bets In UFC Ontario Betting
Still wonder how to bet on UFC fights in Ontario? There are many different types of bets available. That can make it difficult for beginners to get started. Here are some common types:
Moneyline Bets
This is one of the most common types of bets used in UFC betting. Moneyline bets are simple to understand, as you're simply betting on who will win the fight.
For example, if you wanted to bet on Conor McGregor to win, you'd place your money on him at +140 (meaning he would win $140 for every $100 that you put down).
The other fighter would be listed at -180 (meaning they would win $120 for every $100 that was bet).
Bookmaker: Bet365
To Win Fight
Total Rounds
Fight Outcome
Fight to go the distance
Holly Holm
vs Ketlen Vieira
-250
+200
Over 2.5 -300
Under 2.5 +225
Holly Holm By Decision +105

Holly Holm By KO/TKO/DQ or Submission +250

Ketlen Vieira By Decision +250

Ketlen Vieira By KO/TKO/DQ or Submission +550

Draw +5000
Yes 2.80
No 2.10
Fighter Props
Fighter props are also very popular in UFC Ontario betting. Prop bets allow you to place wagers on things other than just who will win or lose.
For example, you could bet on how long a particular fight will last (the longest fight lasted 25 minutes), or which fighter will get a knockout first (the first KO came at 21 seconds).
Also, let's say that there are two fighters scheduled for an upcoming fight: Fighter A (who's odds are 2-1) and Fighter B (who's odds are 1-2).
You could make a prop bet by saying that if Fighter A wins, he'll do so by KO or TKO (a knockout or technical knockout).
If he doesn't win by those methods but does win, then your bet would be considered "no action" since it didn't happen as predicted - and therefore no payout will occur either way because it didn't happen as expected!
Bookmaker:
Bet365
To Win Fight
Total Rounds
Fight Outcome
Fight to go the distance
Holly Holm vs
Ketlen Vieira
-240
+195
Over 4.5 -255
Under 4.5 +190
Fight to Be Won by Split or Majority Decision

Yes +400
No -650

Fight to Be Won by Unanimous Decision

Yes -125
No -105
-225
+165
Futures
Futures bets are another popular option in UFC betting in Canada because they allow you to place an early wager on which fighter(s) will emerge victorious from upcoming events months before they take place!
These type of bets can be open before the start of a tournament or who will be UFC champion. The bookmakers frequently adjust the odds to suit fight results, injuries and other variables.
Once a future bet is placed, the sportsbook will lock it for the bettors and will not be affected by any other factors throughout the betting tournament. You can also bet on who a particular fighter will face next or if a fighter will be affected by injury.
| Futures Bets (UFC Championship) | Odds to win |
| --- | --- |
| Heavyweight (Francis Ngannou) | +450 |
| Light Heavyweight (Glover Teixeira) | +400 |
| Middleweight (Israel Adesanya) | +400 |
UFC Online Betting Best Strategies (Tips & Tricks)
UFC online betting is a complex game, but there are some strategies related to MMA betting online that can help you get the most out of your bets.
Paying Attention to the Weigh-Ins

The weigh-ins can be an important indicator of how a fight will go.

If one fighter is significantly larger than the other, it's likely that they'll have an advantage on fight night.

You might want to avoid placing bets on these types of fights.

Ring or Cage? Size of the Cage?

If there's an advantage for one fighter because of their size, then consider whether this will affect their ability to move around the cage.

If they're at a disadvantage because they're too big for the ring or cage, then odds are good that they'll struggle during this fight as well.

Avoiding To Bet Heavy Favorites

It's not uncommon for people to pick favorites when they bet on UFC online betting sites.

However, if you do this without doing any research into each fighter's past performances and overall skill level, then chances are good that your money won't be very successful in this type of wagering environment!

Consider betting on underdogs so that if they win, you'll win big!

Considering Pace, Reach and Stance

Pace refers to how fast or slow a fight will go (how many strikes per minute).

A slow pace favors counter strikers who can avoid getting hit by their opponents' strikes while waiting for an opening for themselves.

On the other hand, fast paces favor aggressive fighters who are adept at increasing space without getting hit.
Things To Remember On How To Bet On UFC Fights
In UFC betting, it's important to pay attention to the weigh-ins. This is because a fighter can often bounce back from a loss or injury by getting in better shape for the next fight. The weigh-ins are also an opportunity for fighters who have been injured to make sure that they are ready for their next fight.
Your betting should be done based on how well you know the fighters and how good your research is. If you are going to bet on an underdog, make sure that you understand why they're an underdog and what makes them a good bet. If you don't feel like you know enough about either fighter, then avoid betting on that fight altogether.
UFC betting in Canada involves looking at many different factors when deciding which fighter will win a match. You should look at their styles, reach, weight class, and past performance before making a decision on which fighter will take home the title belt.
Betting online on UFC fights can be very lucrative if done correctly but it requires patience and research before placing any bets. You need to make sure that you are familiar with both fighters before placing any bets so that you can get an idea of who might win based on their style of fighting or previous performance.
How To Bet On UFC Fights When You Are Beginner?
When it comes to betting on UFC fights in Ontario, you can do it from the comfort of your own home.
The first thing you'll need to do is register an account at one of the many online sportsbooks that offer UFC betting action.
Once you've chosen a site, open a new browser window and head to their website. You'll be presented with a registration page. Fill out all the required fields, including your name and address, then find and click "Register Now."
The registration process is very simple and straightforward. You can register with your favorite sportsbook by providing your personal information and email address. You will also be asked to provide your date of birth and gender, which are required for age verification purposes.
Once you have registered, you will be able to log in with your username and password.
How To Bet On UFC Fights In Ontario?
If you're in Ontario and you want to bet on UFC fights, you've come to the right place. We'll walk you through the steps of how to place a bet on an UFC fight, using bet365 as an example:
Step 1

You'll need to open an account with bet365.

Once you've done that, you'll need to verify your age by entering your date of birth, address, phone number and email address into our secure system.

As soon as your account has been verified, you can deposit funds into it using any major credit or debit card.

Step 2

After creating an account, visit their website and click on "Sportsbook" in the top navigation bar.

Once there, click on "UFC" under Sportsbook – this will take you to a page where all upcoming UFC events are listed.

Step 3

It's time to choose which fighter will be victorious in their next match!

There are lots of factors to consider when choosing which fighter will win:

their past record against opponents who have similar records;
their last fight;
whether they have any injuries that might affect their performance;
how much money other people are betting on them.

Click on any event that interests you (for example, if I were betting on a card featuring both Elise Reed and Sam Hughes, I would click on the link for UFC Fight Night Elise Reed vs Sam Hughes.

This will bring up details about that particular fight card – including the date, location, and start time of each fight on that card – as well as a list of fighters scheduled to compete that night.

Step 4

Now it's time to place your bet!

To do so, click on "Bet Now" under each fighter's name (or just click "Bet Now" at the top of the screen). This will bring up a betting slip where you can choose how much money to wager and which fighter(s) you want to wager on.

When you are done, Click "Place Bet" and confirm your selection.
Is UFC Fights Worth Betting In Canada?
UFC fights are a great sport for bettors of all levels. They are easy to understand and the rules are simple, so it's a great way to get started. UFC Fights is a great sport for betting, and it's a good choice for both beginners and advanced bettors.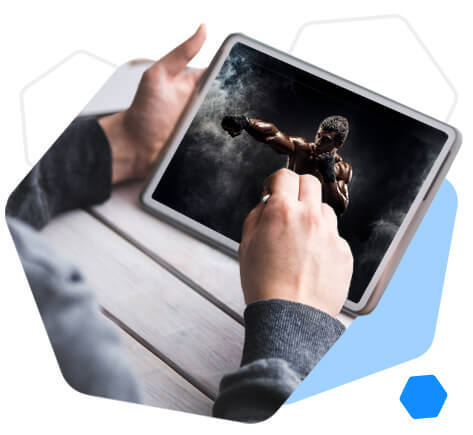 For beginners, UFC fights are easy to learn about. The rules are very similar to boxing and wrestling, which means that you can get a lot of practice in other sports before getting into MMA. This also makes it easy to follow along with the action as it unfolds, because you don't have to keep up with all the different rules from different fighting styles.
For advanced bettors, the UFC offers multiple betting online options. You can bet on individual fighters, or you can bet on how long each fight will last. This means that there are many opportunities. You can also use an app to help make sure that your bets are as accurate as possible.
Pros:
UFC fights are easy to understand. The rules are simple and straightforward, which makes them easier for beginners than some other sports like baseball or basketball.

UFC fights have a lot of betting options, from prop bets to moneyline bets on individual fighters. This gives you more ways to bet, even if you don't know much about the sport yet!

UFC is a very popular sport in Canada, which means there will always be plenty of betting opportunities available no matter what time of year it is!
Cons:
UFC fights don't happen as often as other sports do (usually just once or twice a month), so there might not be as many opportunities to bet as someone who wants more action might want (especially if they're only betting on one type of bet).

The cost associated with playing at most online sportsbooks can add up quickly over time if you're not careful about where your money's going (i.e., losing bets).

Make sure that your bankroll has enough room for losses before investing heavily into an event like this one because it will leave you feeling disappointed if things don't go as planned!
Best Bookmaker To Bet UFC Fights In Ontario
We've done all of the research, so you don't have to. Here's what we found: the best bookmaker to bet UFC fights in Ontario is Caesar's sportsbook.
UFC betting fans can bet on UFC with Caesars sportsbook from anywhere in Ontario. This means that this sportsbook is specifically designed for bettors in Ontario.
Caesars sportsbook odds are some of the best in the industry. They are constantly updating them and adjusting them to ensure that they provide a great service for their customers. This is important because it means that you will always be able to get good odds when betting on UFC fights with them.
Also, it offers a wide range of betting options for Ontario UFC fans. Compared to other competitors, the site is easy to navigate, and it provides a great deal of information about different fights. The interface is clean and simple, and it's easy to find whatever you're looking for on the site.
Caesars offers betting options for all kinds of UFC fights, including both pre-match and live wagers on upcoming events. It also has a good selection of props available for each fight.
Advantages of using Caesars Sportsbook:
The customer support team is available 24/7 so if you ever have any problems or questions about your account or betting, they will be able to help you out straight away!

They have an extensive selection of odds available for each fight.

It is well regulated, exciting, without any hitch in service.
Need more?
Betting on the UFC in Canada doesn't have to be limited to UFC fights. There are many other notable organizations operating in the country. For example, you might be interested in the UFC vs Bellator comparison, as well as our expert Unified MMA guide.
What's more, it's hard to get more excitement when betting on a fight than watching it live. You don't know where to do it? Check out the UFC live stream online guide, which we have prepared especially for you!
FAQ
Yes, you can bet on UFC fights online. There are several sportsbooks that make UFC fights available for bettors.

UFC gambling is legal in some states and illegal in others, so depending on where you're located, you may or may not be able to place a bet.

For example, if you're in Ontario, and want to bet on the outcome of an upcoming UFC fight, then you're good to go!

The best betting site for UFC in Ontario, Canada is Bet365. They offer a variety of MMA sportsbook options, including the ability to bet on individual fights and full competitions.

Bet365 has over a decade of experience in the industry, which means they have plenty of information about how to make money on sports betting. They also have some of the best odds around, so you can be sure you're getting the best bang for your buck.

You can use Bet365 to bet on other sports as well, including basketball and football—and if you're looking for something different than MMA or other combat sports, there are also options available for boxing matches and horse racing events.

The UFC works with Bodog, a Canadian-based sports betting company. Bodog is based in Canada, but it has been licensed to operate in Ontario. The site also operates in New Jersey and Nevada as well as other parts of the United States.

It's important to note that Bodog is a bookmaking company – not an online casino. This means that it doesn't offer games like roulette or slot machines but rather lets users place bets on sporting events such as football games, horse races, and boxing matches.

The website is easy to use and has been optimized for mobile devices so you can place wagers just about anywhere you go these days!

As a sports betting site, DraftKings is one of the most popular places to bet on UFC.

In fact, it's the one of the places where you can bet on UFC from your mobile device. If you're looking for a platform that offers free play money and real cash prizes for all types of sports, then UFC DraftKings is for you.

But if you're trying to find out whether or not DraftKings allows you to bet on UFC, then the answer is yes! The easiest way for Ontarians to sign up with DraftKings is through their website, which offers a wide range of options for signing up and getting started with their platform.

Once you have an account set up with them, you'll need to deposit funds into your account in order to start playing games like UFC. The minimum deposit amount is $5 USD (or equivalent currency), but there are several ways that you can do this depending on what type of payment method works best for you: Credit or debit card (Visa®, MasterCard®, American Express®, Discover™) PayPal account Bank wire transfer.

UFC fights betting is one of the most popular sports wagers in Ontario, Canada.

The UFC (Ultimate Fighting Championship) is a mixed martial arts organization that pits fighters from many different disciplines against each other. These disciplines include boxing, jiu-jitsu, karate, taekwondo and wrestling.

UFC matches are held in four different weight classes: Flyweight (125 pounds), Bantamweight (135 pounds), Featherweight (145 pounds), Lightweight (155 pounds), Welterweight (170 pounds), Middleweight (185 pounds), Light Heavyweight (205 pounds) and Heavyweight (265 pounds).

Each fight consists of three rounds with a maximum of five minutes per round. Fights end when one fighter is knocked out or when the referee declares one fighter unable to continue due to injury or exhaustion.

There are several types of UFC fights bets available on betting sites in Ontario, Canada: straight bets on which fighter will win; parlays and teasers that allow bettors to combine multiple wagers into one bet; futures bets on who will win specific tournaments or championships; prop bets that don't involve picking winners but instead involve predicting what will happen during a match or series of matches.