World Cup 2022 Predictions & Favorite Odds
Last updated:
14 minutes read
Brazil

World Cup 2022 Winner
Details:
Brazil has been deemed the world cup's biggest favourite, which is not surprising. The team is balanced with great defence, strikers, and a wealth of experience.
These and many more are some of the reasons why they have the best odds on most legal bookmakers in Ontario. Currently, Bet365 offers the best odds of 3.50 on Brazil.
In this piece you'll find wide range of World Cup 2022 predictions & favorite odds. If you plan to wager on the World Cup, we will cover everything you need to know here. We'll also provide you with a list of the top teams alongside our expert analysis.
Favorites To Win The FIFA World Cup 2022
Brazil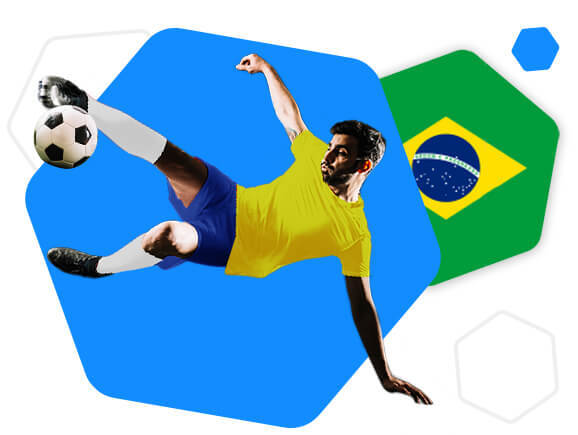 Five-time winners of the world cup
A very strong team of strikers and defenders
Wealth of experience
To be honest, most of the world cup 2022 predictions aim to Brazil. This team has a brutal offence consisting of Neymar, Richarlison and Raphinha. These are top strikers, and it is evident that we are in for a treat.
Moreover, the overall team is extremely strong as an equally powerful defensive line is available to support the strikers. Thiago Silva will bring his wealth of experience as the Captain, having replaced Neymar for the role. Plenty of rising stars may gain popularity from the world cup, so we can expect to see some quality play.
Enderson and Alisson are the goalkeepers for the Brazilian team – both of which are highly talented. If they stay in peak form, we can be sure that the team will concede minimal goals.
Adenor Leonardo Bacchi will remain the coach for the event since he recently signed a four-year contract that will extend to this year.
Asides from these, Brazil has won the world cup five times in the past, with their last win being in 2002. However, they have also come close many other times – making them one of the most successful teams in the event.
England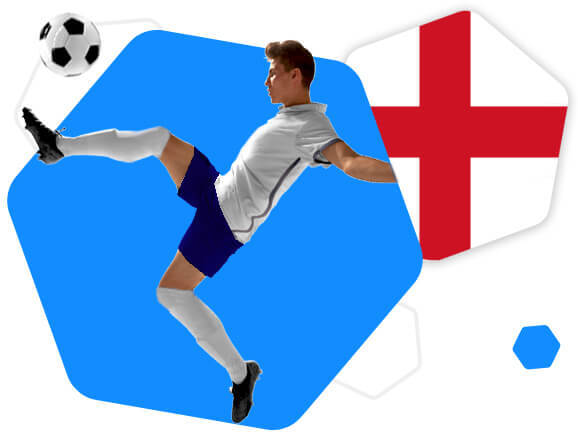 Highly versatile team
Great coach
The English team has earned the place as the second favourite predicted to win the World Cup 2022.
This team played marvellously in Euro 2020 but lost the final to Italy via penalty shootouts. England consists of a young generation of skilled attackers trying to rise through the ranks.
The striking force will be spearheaded by payers like Saka, Bowen, and Kane, who are skilled and will ensure enough support.
Harry Kane, who has been the team captain since 2018, will remain the Captain for the World Cup. We can expect his leadership to significantly impact the team.
Gareth Southgate will remain the English team's coach, bringing his wealth of experience.
He was the third coach to get England to the World Cup semi-finals, the first to get to the European Championship final, and any important tournament final since 1966. This manager has been great so far, so with him behind the team; we can be certain of a spectacular outcome.
France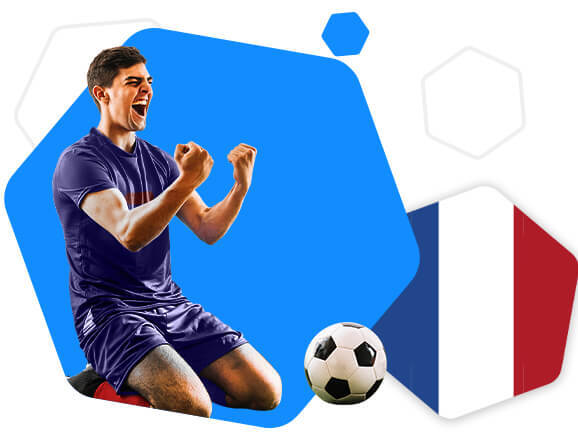 2018 World Cup Winners and reigning champions
Tons of talents and skilled players
The current World Cup Champions are also amongst the top World Cup 2022 predictions on many best sports betting sites.
Even though this team did not perform as expected during the Euros, where they lost their lead against Switzerland, they are still one of the top contenders in the World Cup. Since the team will be defending its title this year, we can expect one of the best gameplays.
The striking force is spectacular, with Mbappe leading the striking team. This is currently one of the best forwards in the world, and he helped the team win the 2018 World Cup by scoring four goals.
We expect him to better this year as he strives to help the team retain its title. However, the French team consists of numerous talents with names like Antoine Griezmann and Karim Benzema supporting Mbappe in striking.
The goalkeepers are also spectacular, with specialists like Hugo Lloris, Mike Maignan. The Captain of the team is Hugo Lloris, so we can expect to see more of him on the pitch compared to the other goalkeepers.
Didier Deschamps, who has been the coach of the French team since 2012, is going to be taking charge once more this world cup.
He spearheaded the team towards winning the 2018 World Cup, so we can expect him to direct the team to aim for the win once more.
Argentina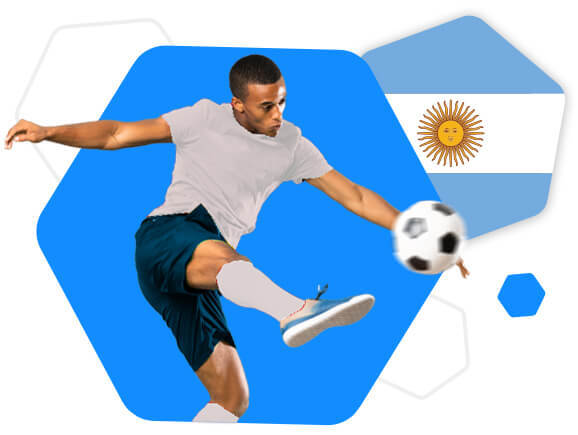 Great selection of players
Two-time World Cup winners
This is the 13tth consecutive time that the Argentinian team will make it to the World Cup.
They have won two World Cups, and in 2018, they were taken out in the round of 16. Nonetheless, this team is still one of the world's best, consisting of quality players, including Messi, the team's captain.
He will certainly play a crucial role in the team, having scored more than 80 goals in his appearances for the team. What's more, this will probably be his last appearance in the World Cup, so we can expect him to bring his A game.
For attack, he will have support from notable strikers like Lauturo Martínez and Ángel Di María, who are expected to bring in the striking magic. Rodrigo De Paul and Giovani Lo Celso are key names, and we can expect to show up. And Lautaro Martinez will most likely be the first choice for Goal Keeping.
Lionel Scaloni, appointed as the coach in 2018, will continue his role this year. He is a great manager, and we can expect this to be evident in the final selection and gameplay of the team.
FIFA World Cup 2022 Canada Betting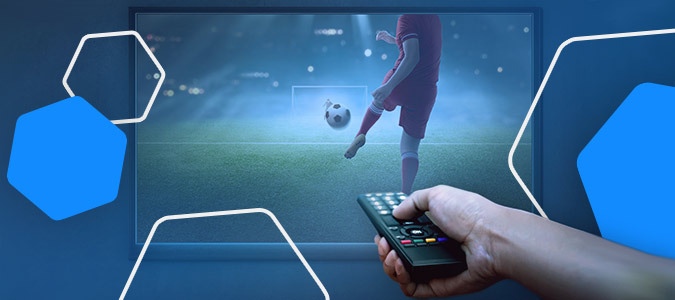 World Cup 2022 predictions don't give Canadians too good odds to win the competition. In most bookmakers, the Canadian team is the 20th team most likely to win the world cup.
For many people, the Canadian team is out of its league in this World Cup. This is understandable, considering that this is the second time they will participate in any World Cup event. They last participated in the 1986 competition and did not score any goal or win any match.
However, as slim as their chances may be, this team has proven itself to progress to this phase of the event. They have defeated Mexico, Costa Rica, and the USA – all of which are not weak teams which means the Canadian team just might have a chance after all.
Moreover, since Canada, USA and Mexico will co-host the 2026 World Cup, the team will most likely give it everything they have. They'll probably want to prove they have the skills to make them the right host nation for the world cup.
To get to the World Cup, Canada topped its group by getting 8 wins, 4 draws and only 2 losses which is quite decent.
Canadian National Soccer Team Squad Layout
Even though most of the Canadian team are mostly fresh players, you can still expect to find a few top players worth noting.
For strikers, Alphonso Davis and Jonathan David will be taken the lead. These players combined have over 30 goals, and we can expect them to get a few in during their matchups. Lucas Cavallini, another popular striker who plays for Vancouver Whitecaps will support the forward.
Atiba Hutchinson is expected to remain the team captain if he is in good shape during the event. We can expect him to bring his wealth of experience to the field and help lead the team to glory.
For Goal Keeping, Milan Borjan will most likely take the lead and provide more wealth of experience to the team. He'll also be supported by names like Dayne St. Clair and Maxime Crepeau.
Stephen Eustáquio, a defensive midfielder, is another name worth looking out for. If he is in peak form, he could prove to be one of the best players for the team.
Gareth Southgate and John Herdman will work together to manage the team and get the best from the team. Both of these managers are highly experienced, so we can see them impacting the right plays and mentality into the players.
Canada World Cup Odds
World Cup 2022 predictions come with the top odds for Canadians. If you want the best Canada World Cup odds to wager on, we recommend you check out the following betting scenarios:
Canada vs Morocco
Details:
Time & Date: Dec 01, 2022; 16:00
Arena: Al Thumama Stadium
Canada is going to win the World Cup match against Morocco.
In my opinion, I think this is because Canada is a new face in the World Cup competition, and they would want to make something out of their return to the competition in 36 years.
Also, the team shows some class in their qualifier matches, marking them ready for the competition.  They are very organized and know what they are doing on the field.
Morocco has not had much success in the past at the international level, and I believe that this will continue to be the case.
On the flip side, the game could result in a draw because some resistance is expected from the Morocco team. Overall, I think the Canadian team has a better chance of winning.
Canada vs Belgium
Details:
Time & Date: Nov 23, 2022; 20:00
Arena: Al Rayyan Stadium
Looking at these statistics closely, the chances of Canada winning this match is pretty slim.
The best Canada can get here is a draw. But of course, soccer is always full of surprises so results are not set in stone.
If you're looking to bet on any possible outcomes of this match, then check out Bet365 for the best odds. No other Ontario licensed bookmaker comes close.
Canada vs Croatia
Details:
Time & Date: Nov 27, 2022; 17:00
Arena: Khalifa International Stadium
We think that Croatia will win because they have more experience playing together as a team compared to Canada, which is just forming a team bond.
Both teams are strong offensive players with good attacking skills. Canada has an advantage over Croatia due to their strength in attack as they have scored more than Croatia so far in the qualifying matches.
However, Croatia has a good defense that can stop any attack from Canada as they have conceded less than them.
This game will be very interesting to watch as both teams are strong offensively, which will make it very difficult for them to score multiple goals.
What Are The Odds Of Canada Winning The World Cup?
Most Ontario bookmakers are not optimistic about the chances of the Canadian team. Moreover, many World Cup 2022 predictions put Canada at the far end of favorite odds sets.
Sports Interaction places the odds at 176.00, while Bet365 has odds of 201.00. Other bookmakers like BetMGM place the odds at 151.00.
From our perspective, we feel it's a longshot too. The team is not that experienced as they have only appeared in the World Cup once. And even if they manage to win in the group stage, there are still a lot of hurdles to cross.
Most other teams, like Brazil and France, are highly experienced, with many world-class players, which means it will take nothing short of a miracle for Canada to win this World Cup.
FIFA World Cup 2022 Group Predictions
Group A

| Teams | Points |
| --- | --- |
| Netherlands | 7 |
| Senegal | 6 |
| Ecuador | 4 |
| Qatar | 0 |
The Netherlands is the clear world cup favourite in this group, and it is anticipated that they will easily defeat the remaining teams, including Qatar, Ecuador, and Senegal. Even though the Netherlands did not qualify for the last tournament, they have the best record, having attained three World Cup finals over the past years.
The second position in most predictions divide between Senegal and Ecuador, with Senegal having the best chances. This team has numerous experienced stars, including Idrissa Gueye, Edouard Mendy, and Sadio Mane, all in top teams. With this selection, it is expected that Senegal will edge out Ecuador without a hitch.
Qatar has the home-field advantage, but they are the least experienced team in the mix. However, they might end up landing one or two surprises, so we can only watch and see.
Group B

| Teams | Points |
| --- | --- |
| England | 7 |
| United States | 5 |
| Iran | 3 |
| Wales | 1 |
This is another fantastic group selection that was determined after Wales defeated Ukraine in the playoffs. The teams to look out for in this group are USA and England, but the English team is more likely predicted to end up at the top.
Last summer, the Three Lions made it to the European Championship final before completing an unbeaten World Cup run. The team also has numerous stars, including Harry Kane, who is among the top goal scorers.
If England wins the group, the emphasis will be on Wales and the USA. Wales is not a team to joke with after defeating Ukraine to seal its position, with Gareth Bale making the team a strong contender. The USA team also has other strong stars with a wealth of experience, like Sergino Dest and Weston McKennie, who can help the team earn a solid spot.
Iran is the odd one in this mix, and we don't expect to see that much action from the team.
Group C

| Teams | Points |
| --- | --- |
| Argentina | 6 |
| Poland | 4 |
| Mexico | 4 |
| Saudi Arabia | 3 |
Argentina is the favourite in this group and will most likely come out on top without too much difficulty.
This team won the World Cup in 1978 and 1986. They also came up as runners-up in two instances and did not lose any match during the World Cup qualifiers.
Lionel Messi will spearhead the team's striking force, and this may be his last chance to win the World Cup. For this reason, we can expect him to bring his A-game.
Group C World Cup 2022 predictions show that second place will most likely be between Poland and Mexico, with Robert Lewandowski leading the attack for the Polish team.
Mexico is another force to be reckoned with, even though they have not had the best form in their previous games. However, Saudi Arabia will most likely be the last in this group, considering it is not in decent shape compared to the other teams in its group.
Group D

| Teams | Points |
| --- | --- |
| France | 6 |
| Australia | 6 |
| Tunisia | 4 |
| Denmark | 1 |
France is currently the favorite in this group, but they may struggle to secure a win over Denmark.
The French team stands out with its powerful lineup consisting of names like Mbappe and N'Golo Kante. This team also won the last World Cup, so they have much to prove in this tournament.
On the other hand, Denmark performed excellently in Euro 2020 and made their way to the semi-finals. This team has a solid defence and midfield, which helped it win matches against Scotland, Austria, and the Czech Republic. This team is the only one in this group most likely to give France any issues.
Australia and Tunisia are not in the same league as the first two teams, so we can't expect much from them.
Group E

Unfortunately for Japan and Costa Rica, they have been paired with Spain and Germany, both of which are extremely powerful teams.
To make it out of the group stage, they must defeat or perform better than these teams, which is very unlikely.
The question right now is who will end out on top between Germany and Spain?
While Germany is a four-time World Cup champion, Spain won the 2012 World up, and both teams will compete for the first spot. However, the odds are in favour of Spain since they dismantled Germany 6-0 in the Nations League, which was held two years back.
Group F

Belgium is predicted most likely to take the win in this group as it has a much better squad than the others in the group.
We see this team claiming its three victories without issues. Canada has been lucky so far and has been paired in a reasonable group.
This is the team's first World Cup appearance since 1986, so it has a lot to prove. Additionally, Jonathan David, who has made a total of 20 goals for Canada in 30 games, will be present. So, we can say that the Canadian team is not at a full disadvantage.
However, they will need to defeat Morocco and Croatia if they need to progress, which will not be easy.
Group G

| Teams | Bet365 odds to win the group | Bet On Bet365 |
| --- | --- | --- |
| Brazil | 1.00 | Place A Bet |
| Switzerland | 81.00 | Place A Bet |
| Cameroon | - | - |
| Serbia | - | - |
Brazil is the favourite of most bookmakers to win the World Cup 2022 tournament, which is quite understandable.
The goal of the other teams, including Cameroon, Switzerland, and Serbia, will be to prevent this team from winning the tournament.
Brazil has won the title five times so far and has a team consisting of highly skilled and experienced players. There is no competition for the team in this group. The question right now is, who will be qualifying alongside Brazil?
Most Bookies are in Favour of Switzerland, but Serbia is no joke either. The team defeated Portugal in the qualifiers and consists of sharp strikers like Aleksandar Mitrovic and Dusan Vlahovic. Both of these players will no doubt be on the prowl for goals.
However, we can't forget about Cameroon either. This team has qualified for numerous World Cups and also has an arsenal of experienced hands. It wouldn't be strange if they had a few surprises up their sleeves.
Group H

| Teams | Bet365 odds to win the group | Bet On Bet365 |
| --- | --- | --- |
| Portugal | 1.00 | Place A Bet |
| Ghana | 67.00 | Place A Bet |
| South Korea | - | - |
| Uruguay | - | - |
This group is a fascinating one that consists of teams from different continents, including Asia, Africa, South America and Europe. Top stars like Luis Suarez and Cristiano Ronaldo will be featured, so you can expect only quality and competitive gameplay.
We expect Portugal and Uruguay to compete for the first two positions, with Portugal having a slightly higher edge due to its squad selection.
Cristiano Ronaldo will most likely try to make history in this tournament, but he also has very good support. Joao Cancelo and Bernardo Silva, two players from Manchester City and Diogo Jota from Liverpool, alongside other renowned stars, combine to make Portugal a juggernaut that will be difficult to bring down.
Uruguay should not have any major issues with the other contenders with experienced players like Luis Suarez and Edinson Cavani, who should easily seal a win for the team.
Nonetheless, we should not completely ignore Ghana and South Korea as they still have what it takes to be problematic for the top two contenders. However, we don't see them making it out of this stage as their chances are quite slim.
World Cup Top Scorers Bets
The Golden Boot is always coveted in any tournament, and the World Cup is not excluded.
This is understandable, considering the various talents that will be participating this year. In 2018, Harry Kane won the award, and this year will open many betting opportunities for Ontario players.
Below, we have put together a list of the top lineups, including important information and the odds from Bet365 Ontario:
Harry Kane has been one the favourite in World Cup 2022 predictions to win the Golden Boot, and this was not without reason.
This player is one of the best centre forwards, and since he already won the highest goal scorer in 2018, he'll probably be looking to recreate the exploit this year.
However, he'll be facing stiff competition from the likes of Lionel Messi, who will most likely be playing in his last tournament this year. Also, it will be worth watching out for Mbappe, Neymar and Ronaldo.
Click here to learn more on the top World Cup Golden Boot Odds, read expert analysis and predictions on the best goal-scorer of the competition.
2022 World Cup Available Betting Options
When it comes to betting on soccer online, there are many bets to consider. Each of these bets work differently, and you need to understand how they work before you wager.
We extensively analyzed top Ontario bookmakers to bring to you some of the top World Cup 2022 predictions you can expect from the best World Cup betting sites. Our top picks include:
To Win Outright

This is the bet on the team that will win a match or tournament. For instance, betting on France to win the World Cup 2022.

Win Group

This is a bet on which team will win in a group. For instance, betting that the Netherlands will come out as the winner in Group A.

Full-time Result

Here, you wager on the outcome of a specific match after the full-time whistle.

Total Goals

This is a wager on the number of goals a team will score will be more or less than a specified amount.

Half-time

Here, you are betting on the results of the match after the half-time whistle.

Handicap

This type of bet is trickier than the others we have covered so far. Most bookmakers offer handicaps where the favourite team is offered additional goals, while goals are deducted from the underdog. It is a way of levelling up the playing field.

Top Goal Scorer

This is a wager on the player that will score the highest number of goals in the tournament. For instance, betting on Harry Kane to score the highest number of goals.

Live Bets

These are wagers you place after the match has begun. Here, the odds change in real-time, and it is a great option for those who want better insights before they make a wager. You'll find this option on many legal Ontario Bookmakers like Bet365 and DraftKings.
How Do Betting Odds Work in Canada?
There are three major types of betting odds formats which are American, Decimal, and Fraction. Let's look into how each work below:
Decimal Odds
In Canada, you will commonly find the decimal odds. It is the default format used by most Ontario bookmakers. It is easy to understand and calculate your expected payout with this format.
For instance, if the odds of France winning the match with Argentina is 2.83, it means if you wager $10 and win, you'll get a payout of $28.3.
American Odds
These are also very popular types of odds common in the United States and other parts of the world. It is written with + or – and indicates how much you will win with a $100 bet or how much you need to risk to win $100. + is usually used for the underdog's odds, while – is for the favourite.
For instance, if you are wagering on a team with +200, it means if you bet $100, you'll win $200. On the other hand, if a team has a -200 odds, it means you must wager 200 to win $100.
Fractional Odds
These are odds represented in fractions. They are typically used to represent future wagers. In these odds, the number above shows you what you will earn by wagering the number below.
So, for instance, if a team has odds of 9/1, it means you can expect to win $9 for each $1 you wager.
How To Bet On The FIFA World Cup 2022 Games?
Betting on the World Cup 2022 is very easy if you follow the steps below:
Choose one of the bookmakers on our list

The first thing we recommend is to choose one of our top Ontario Bookmakers here. You are fine with any option as they are all legal and have properly been vetted by us.

Register on the platform

Next, register on the selected platform by clicking the Sign-up/ Register link and following the steps. Note that you'll need to verify your identity to get started with real money betting if you are in Ontario.

Make a deposit

Once you are through with registration, make a deposit and choose your preferred match and bet type. After you have made your selection, it will show up on your slip. Click on "bet" if you have crosschecked your selection and you are satisfied.

Wait for the Outcome

All that is left at this point is to wait. If your selection is correct, you win! Then, all that is left is to withdraw your winnings using one of the available payment options.
Where to Bet on 2022 FIFA World Cup In Ontario?
If you have decided to bet on the FIFA World Cup 2022 predictions In Ontario, here are the best bookmakers we suggest you try out:
Rating: 4.8/5

Extensive betting offer, fast payments, and live commentary. Great odds, great in-play betting, and the best mobile app.

Bet365 Review

19+. Gambling can be addictive, please play responsibly.

Odds margin: 6.71%

It is an internationally recognized bookmaker

Different banking options are available

The website and app are easy to navigate

Live streaming is available for new customers

REGISTER NOW
Rating: 4.6/5

The BetMGM Sportsbook app is the official mobile betting app of MGM Resorts International, one of the world's most recognized land-based casino operators.

BetMGM Review

19+. Gambling can be addictive, please play responsibly.

Odds margin: 6.31%

A variety of international sports are available 

It has the best futures odds amongst other sportsbooks

Live streaming is supported on selected events

Supported on both desktop and mobile phones

REGISTER NOW
Rating: 4.5/5

The long-awaited online bookmaker is finally legal in Ontario. Superb live betting section, great odds & top-tier mobile app.

DraftKings Review

19+. Gambling can be addictive, please play responsibly.

Odds margin: 6.10%

well-known & respected US brand
very attractive odds
great UX and safety measures

REGISTER NOW
Rating: 4.5/5

Betway is the perfect sportsbook for both professionals and beginners. Known primarily for its excellent soccer odds, the platform has a clean interface with lots of betting options for not only the most popular sports.

19+. Gambling can be addictive, please play responsibly.

Odds margin: 8.12%

Tons of sports betting markets

Wide live betting options

Fantastic customer support

Easy-to-use, highly intuitive platform

REGISTER NOW
Rating: 4.0/5

Bwin is one of the more attractive online bookmakers. They have a number of features that you won't find in the other major players.

Bwin Review

19+. Gambling can be addictive, please play responsibly.

Odds margin: 6.31%

One of the most reputable online bookmakers
A large number of betting markets are available, maybe the majority of which are available online

REGISTER NOW
FIFA World Cup 2022 In Qatar
The 2022 World Cup will be held in Qatar between November and December. The host nation was chosen in 2010 ahead of other options like Japan, the United States, Australia and South Korea. This tournament was initially held in 1930, and this is the 22nd edition. There were only 13 teams at the start, but this year, there will be 32 teams.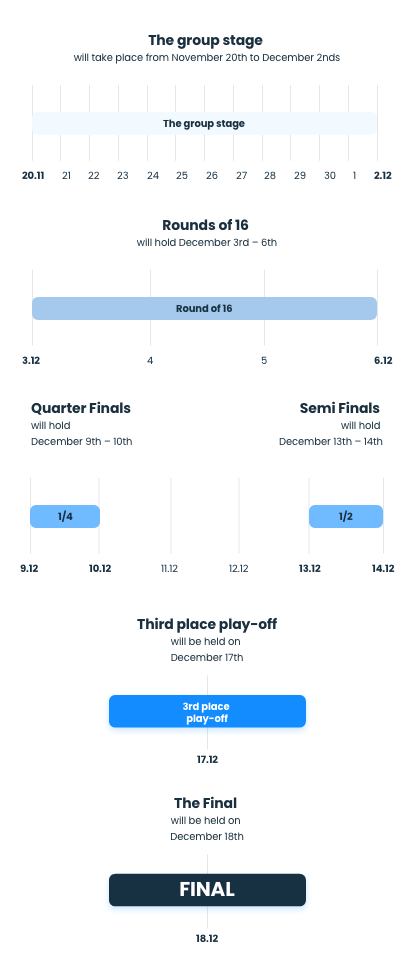 This edition is also one that is highly significant since it is the last one that will consist of only 32 qualifying nations.
From 2026, it is slated to extend to 48 teams which means more fun and opportunities for teams and players alike.
This year, the matches will take place in five locations in Qatar. These include Al Rayyan, Doha, Al Wakrah, Al Khor, and Lusil. While the first match is slated to occur in Al Bayt Stadium, the final match will occur at the Lusail Iconic Stadium.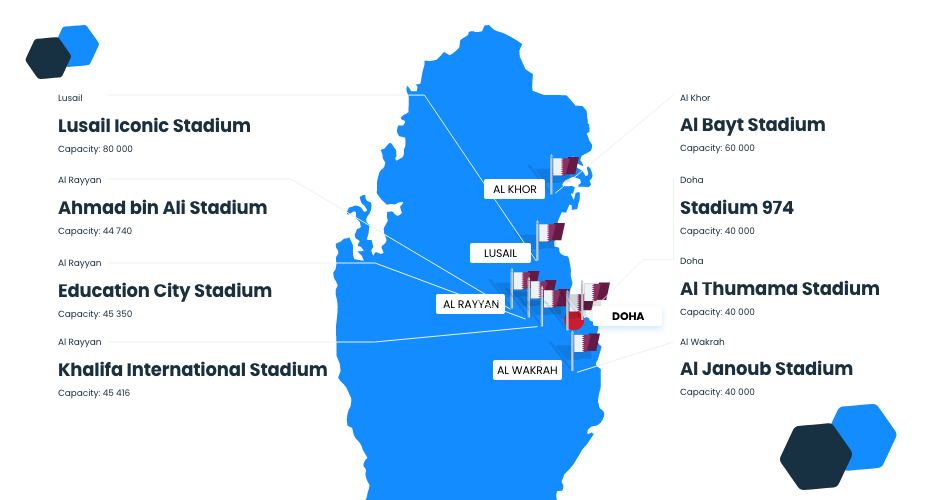 FAQ
The World Cup 2022 is from November 20th, 2022 – December 18th, 2022.

The World Cup 2022 will hold in Qatar.

There are 32 teams in the World Cup 2022, and these teams have been categorized into eight FIFA world cup 2022 groups(A-H).

You can watch the FIFA 2022 World Cup live on Fox Sports and FS1. If you prefer streaming, you can use options like Vidgo, Peacock, and Fubo.

If you are in Ontario, you can bet on Bookmakers like Bet365, Betway, DraftKings, etc. Check out the list of top sportsbooks for the available options.

Based on our FIFA world cup predictions, Brazil will most likely win the FIFA World Cup 2022.

Brazil is the Favorite to win the World Cup 2022 on most bookmakers. If you are going to be engaging in FIFA world cup betting on sportsbooks, this is the team we recommend you back.

Canada will play on November 23rd against Belgium, November 27th against Croatia, and the 1st of December against Morocco.

Based on Bet365, Canada has +15000 odds of winning the World Cup.

Brazil has the highest odds of winning the World Cup on most Bookies in Ontario.

Canada is in Group F for the World Cup.