Is Online Gambling Legal In Canada?
Last updated:
8 minutes read
Is online gambling legal in Canada? The answer to this simple question has several important threads. Let's get to know them all.
Many punters are curious about the legal state of online gambling in Canada. There are several facets to this question, but first, here's a brief overview of the situation in the country.
Online gambling laws in Canada differ from one province to the other and rest solely at the behest of the provincial government.

Since there is no central law, there are many grey areas in online gambling.

Online casinos are illegal without the possession of a recognized licence.

Players who play at foreign gambling websites are not at risk of prosecution.

The Criminal Code of Canada is the official criminal law in Canada and does not indicate punishments for online gambling.
Current Changes In Online Gambling Laws In Canada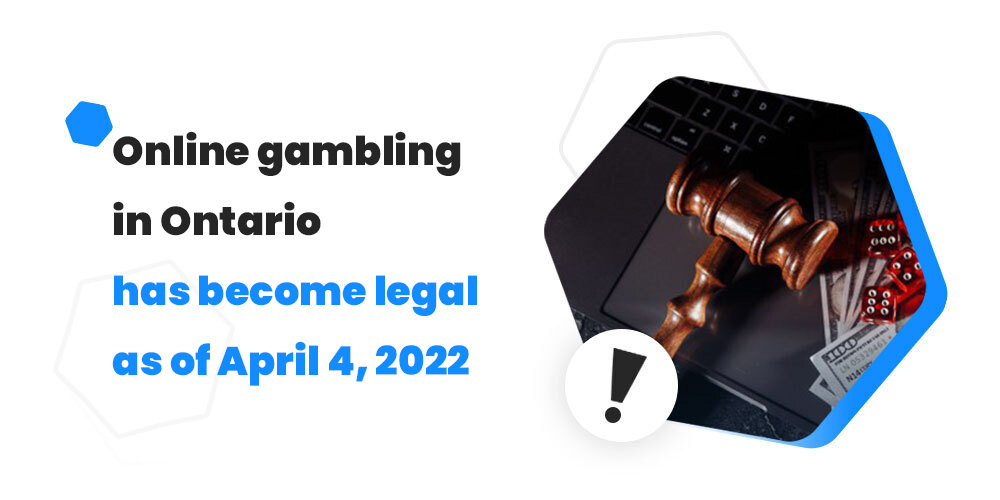 With global online gaming and betting activities reaching an estimated USD 66.72 billion, the Canadian government has been pressured to amend the Criminal Code.
For instance, before now, single-game sports betting had been illegal in the country. However, Bill C-281 (proposed amendment act to the criminal code on betting) has been in the Senate, intending to give light to the legal status of iGaming in Canada.
The Change Has Already Come
The legal status of certain parts of online gambling in Canada was changed from August 27, 2021, when Bill C-218 became active.
The bill sought to improve Canada's legal gambling structure. However, it is still be limited until provincial governments decide to act on it, and the federal government makes their stand on the legality of online gambling clearer.
Some of the provinces has began to show interest and act. Ontario decided to take a stand on the legal framework of gambling in their province, allowing operators of some platforms to make moves to bring their services to the state.
Problems
The question Is online gambling legal in Canada comes with a certain benefits to both players and the government.
This development taxes the returns, and online gambling enthusiasts can enjoy their fantasies at legal igaming sites in Canada.
However, this new development can bring problems generally associated with iGaming.
One of the primary concerns is the increased level of addiction. There are no mincing words that the online market has interesting games that can keep players glued to the screen for hours with flinching. For more information, see Responsible Gambling in Ontario.
With no hindrance to players registering and playing at foreign offshore sites, past situations have caused grey areas in the country. There are no punishments for players who play at foreign sites. Yet, it is a criminal offence to operate an online casino in Canada without a license.
Another critical issue with legalization is the prevention of minors from engaging in risky activities. The legal gambling age in Canada has been debated and differs between provinces.
While some provinces decreed the legal age of gambling at 18, others have left it at 19. The lack of a uniform legal age may affect the enforcement of Canada online gambling laws.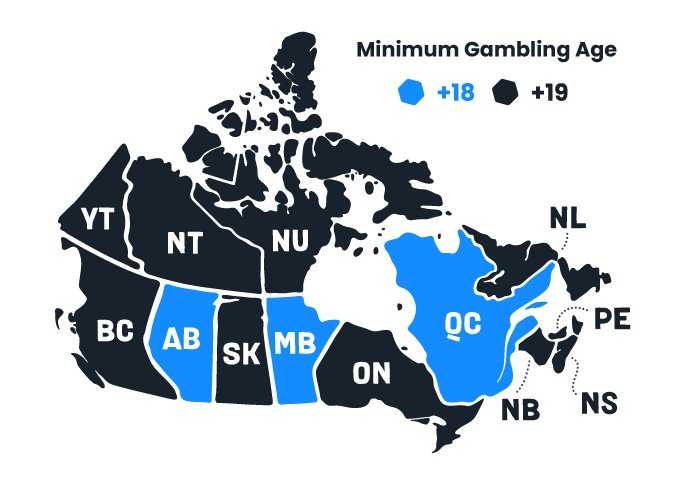 Regulations
With its criminal code, Canada is in a prime position to regulate the activities of online casino sites and betting platforms.
Initially, players playing at foreign gambling sites prevented the government from collecting Canadian gambling tax. Now, with the reformed criminal code, provinces can regulate gambling activities in their jurisdiction.
This development has propelled the rise of in-person casinos and lotteries owned and operated by the provincial regulatory bodies.
Some of the regional gambling authorities include:
Manitoba – Liquor and Gaming Commission of Manitoba
New Brunswick – New Brunswick Gaming Control
Quebec – Loto Quebec
Ontario – Ontario Lottery and Gaming Corporation
Alberta – Alberta Gaming and Liquor Commission
British Columbia – British Columbia Lottery Commission
Saskatchewan – Saskatchewan Liquor and Gaming Authority
Prince Edward Island – Prince Edward Island Lotteries Commission
Nova Scotia – Alcohol, Gaming, Fuel and Tobacco Division Service of Nova Scotia.
Requirements for Operators
The Canadian Criminal Code clearly states that operators cannot operate any online gambling platform. This rule also extends to the provinces, although they each have the right to modify this provision and legalize any type of gambling as they see fit.
A confusing aspect of online gambling laws in Canada is that operators are allowed to obtain a licence from the Kahnawake Gambling Commission. Although Canadian law restricts online gambling operations to the government and provinces, this commission still not only owns and operates online gambling platforms, but also issues licences to offshore betting sites.
The commission provides licences for Canadian online sportsbooks, online poker rooms, the best online casinos, and other forms of online gambling.
To obtain a licence to operate, applicants must apply for a client-provider authorization (CPA). It contains a list of documents to be submitted with an application form. A licence and personal information form must be duly completed and submitted.
These forms are to be filled out and submitted by shareholders holding a minimum of 10% of the business. The intending operator must also PAY a fee of C$25,000.
The second stage of requirements is compliance with ethical considerations. Fair play policies transparency in the markets will be checked thoroughly. The commission considers a particular factor if the operator has strategies in place to restrict minors from gambling.
Once these requirements are met, the commission takes 4 to 8 weeks to review the application. If the application is successful, they will issue a licence. If not, a fee of C$10,000 will be refunded.
The first operational licence is issued on probation for six months. During this time, inspection on the gambling platform will ensure the house's fairness and ensure players have an equal chance of winning.
Is Online Gambling Legal In Canada? - Gambling Laws in the Provinces
Due to the political nature of Canada and its provinces, the provincial governments have permission to adjust the online gambling laws in Canada as they deem fit. Here is a breakdown of the current iGaming laws in the different regions.
Is Online Gambling Legal in Ontario?
While the legal nature of online gambling is rife in many parts of Canada, the story is almost different in Ontario.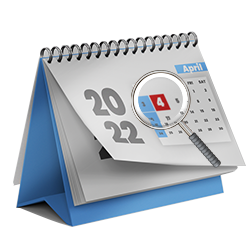 The current legislation on online gambling in this region does not stipulate penalties for anyone who plays at the government-owned casino or offshore foreign gambling sites. Also, the legal gambling age in Ontario is 19 years and above before playing at online platforms or in-person betting and gambling outfits.
The Alcohol and Gaming Commission of Ontario (AGCO) is responsible for regulating and enforcing the online gambling laws in the province.
The following online games can be played in Ontario:
| Game | Is It legal? |
| --- | --- |
| Sports betting | Yes |
| Casinos | Yes |
| Electronic bingo | Yes |
| Raffles | Yes |
| Poker | Yes |
Is Online Gambling Legal in Quebec?
Quebec has been one of the territories that offer legal retail gambling since 1970. Just as the legality of online gambling is an issue in other provinces, Quebec is facing the same issue.
Many brick-and-mortar casinos offer slot machines, video lotteries, and table games on the menu. Just like Ontario, the government owns an online casino, Espacejeux. Players were allowed to bet on offshore gambling sites, but the government is introducing legislation that blocks any online operator not licensed in the region from operating.
The province has two regulatory bodies: Société des loteries du Québec (Loto-Québec) and Quebec Alcohol, Racing, and Gaming Commission.
In addition is its online casino, driven by Loto Quebec. The legal age of gambling in Quebec is 18 years or older.
Here's a list of online gambling forms allowed by the government:
| Game | Is it legal? |
| --- | --- |
| Lottery | No |
| Sports betting | Yes (partially) |
| Casinos | No |
| Electronic bingo | Yes |
| Raffles | Yes |
| Poker | No |
Is Online Gambling Legal in Nova Scotia?
This province is the second-smallest province in terms of the landmass in Canada. The legal gambling age in this province is 19 years and older.
The government owns and operates two land-based casinos and three race tracks. There are also off-track retail betting outfits for those who prefer to bet outside the tracks.
The legality of online gambling is limited in this province. For online sports betting, bettors are limited to the Pro-Line parlay system exclusive for online betting on sports events.
However, unlike Ontario and Quebec, the government does not own an online gambling platform. The regulatory bodies responsible for enforcing the gambling laws of this region are the Nova Scotia Gaming Corporation and The Alcohol, Gaming, Fuel and Tobacco Division of Service Nova Scotia.
According to the laws of this region, punters can only play online games on platforms that are offshore gambling platforms and regulated by both gambling regulatory commissions and the Atlantic Lottery Corporation.
The games that Nova Scotia residents can take part in are:
| Game | Is it legal? |
| --- | --- |
| Lottery | No |
| Sports betting | Yes (partially) |
| Casinos | No |
| Electronic bingo | Yes |
| Raffles | Yes |
| Poker | No |
Is Online Gambling Legal in New Brunswick?
With over one million residents in New Brunswick, only persons 19 years and older can enjoy the gambling activities allowed by the provincial government.
There is only one land-based casino and 2 racetracks in the state. This does not limit the options of online punters, though.
The gambling laws in this province allow players to register and play at online gambling platforms:
Players must be 19 or older
The gambling sites are located offshore
New Brunswick players can also play at the Proline-Stadium online casino, which is operated by the Atlantic Lottery Corporation.
The regulatory bodies in this region are the Gaming, Liquor and Security Licensing Branch of the Department of Justice and Public Safety and the New Brunswick Lotteries and Gaming Corporation (NBLGC).
Here's an overview of the games that can be played online in this region:
| Game | Is it legal? |
| --- | --- |
| Lottery | No |
| Sports betting | Yes (partially) |
| Casinos | No |
| Electronic bingo | Yes |
| Raffles | Yes |
| Poker | No |
Is Online Gambling Legal in Manitoba?
The legal situation in Manitoba is quite different compared to other provinces. The region owns multiple land-based casinos, with some owned by First Nations Interests and others by the government. The state-owned lottery is managed by the Western Canada Lottery Corporation.
The province owns an online sports betting platform where punters can utilize the sport select system rather than the Pro-Line options.
The regulatory body for this region is the Liquor and Gaming Authority of Manitoba.
The online gambling laws here are considerate:
It allows players 18 years or older to play at gambling sites
Players can use playnow.com to place sports bets
Sites operated by the Western Canada Lottery Corporation (WCLC)
Here's a breakdown of the different games and their legal status:
| Game | Is it legal? |
| --- | --- |
| Lottery | Yes |
| Sports betting | Yes |
| Lasinos | No |
| Electronic bingo | Yes |
| Raffles | Yes |
| Poker | Yes |
Is Online Gambling Legal in British Columbia?
All online gambling activities in British Columbia are regulated by the British Columbia Lottery Corporation.
The legal situation of online gambling is almost similar to that of Manitoba. Online gambling will practically be fully legal in the province.
The state offers different forms of offline gambling for its residents. The online gambling laws cover only players at playnow.com and the online casinos offshore. Players must be 19 years and above before they can legally gamble online.
Here's an overview of the legal status for the different games:
| Game | Is it legal? |
| --- | --- |
| Lottery | Yes |
| Sports betting | Yes |
| Casinos | No |
| Electronic bingo | Yes |
| Raffles | Yes |
| Poker | Yes |
Gambling Tax in Canada
For taxes in Canada, the government focuses its attention on the operators and not the players. If you have won some real good cash prize from an online gambling site in Canada, don't worry; you're not paying a cent to the government in gambling taxes.
However, there are situations where the government will demand a tax from online gambling winners.
Players who gamble online for recreational purposes or just for fun do not have to worry about taxes. Since it is not a dependable source of income, the government will not demand a share. However, you must declare it on your T5 form when receiving interest from the cash prize. Anyone who receives interest from online gambling wins and does not pay a tax is punishable under the law.
However, professional gamblers are obligated by law to pay taxes on every cash win made. Anyone who makes a living from playing online games must pay a tax to the government.
According to Canadian laws, wins from online gambling are taxed 15% of the returns.
FAQ
Yes, it is. Online gambling in Alberta is legal under the Gaming, Liquor and Cannabis Act of the Alberta province. However, the legality only applies to licensed sites which are regulated.

Online Gambling in Ontario is legal as of Aprli 4, 2022.

The legal situation of online gambling in Canada is something of a grey area.

The criminal code does not ban the players from placing bets on the internet or playing games on the computer; however, operators must be licensed before operating within Canada. Some provinces allow online gambling for major iGaming activities.

Gambling apps are legal and illegal, depending on the region in which they are found. Gambling apps are permitted when the government offers a gambling platform. Gambling apps offered by unlicensed operators are illegal in Canada.

As long as you play for fun, you don't have to pay tax on gambling winnings in Canada. However, if you are a professional gambler, you will have to pay 15% of your cash wins to the government.

From August 21, 2021, single-game betting has become legal in Canada.

The legal gambling age differs from province to province. While the national gambling age is set at 18 years, some regions limit gambling to anyone under 19.