What Is Live Betting?
Last updated:
7 minutes read
Live betting is certainly one of the most impressive features of online sports betting…
With live betting, you don't have to worry about unforeseen events (before the commencement of a match) that can reduce your winning chances. Simply wait till the match starts, study the gameplay and make your wager.
This adds a bit of fun and suspense while also increasing your chances of winning. But it's not all sunshine and roses when it comes to live betting - there are also pitfalls you need to be aware of.
In this write-up, we'll cover every aspect of live betting and answer popular questions like what is live betting, how does live betting work, and how live betting odds work. We'll also provide live in-game betting strategy tips to help you get started.
Let's dive into the full details!
What is Live Betting Exactly?
Live betting also known as in-play betting is all about placing bets on a match that is still in play.
Think of a soccer game that runs for 90 minutes with two halves of 45 minutes. You can place wagers on the game within both 45 minutes until the end of the game. The results from the game will determine if your bet is a hit or miss.
When it comes to in-game live betting, the odds are never the same. From the coin toss to the final whistle, the odds will be continuously updated. Goals, injuries, substitutions, fouls, and so on are some factors that can result in changes in the odds.
Keep in mind that sportsbooks that offer in-play betting usually give fewer betting lines during the game than before the game. As the game draws to a close, you might find that the betting options are even fewer than at the beginning of the game.
How Live Betting Works?
If you've placed pre-game wagers in the past, then you will find in-play betting to be extremely simple. Even if you don't have a lot of experience in sports betting, you will have problems placing a live bet.
Here is an example of how in-play betting works for a tennis match.
Selena Williams is taking on Naomi Osaka in the US Open. The game is already underway and you can place your bets in the in-game betting section.
| Player | Odds |
| --- | --- |
| Selena Williams | -110 |
| Naomi Osaka | +110 |
Taking a look at the moneyline betting market, you will find the odds beginning at -110 for Williams and +110 for Osaka.
Williams is clearly the favourite here (denoted by the minus sign), however, if Osaka is able to take a one-set lead, the odds will change in real time to -110 for Osaka and +110 for Williams. The odds could change to favour any player that wins a couple of games in a set before winning the entire set.
How Are Live Betting Odds Calculated?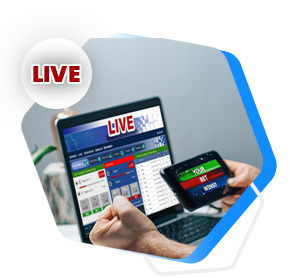 Live betting odds change in real-time to reflect a change in the nature of the game.
It could be the scoring of a touchdown in a game of football, a draw in the first half of a game of soccer, or a one-set lead in a game of tennis.
If a team is favoured right before the game, but they start losing by a couple of points, the odds will change to reflect the situation, giving the underdogs a higher odd count that will either match or exceed the previously favoured team.
But how are these odds calculated?
Online sportsbooks make use of computer algorithms that change the odds depending on the real time stacks.
If a player like Cristiano Ronaldo gets two shots on target in a soccer game without hitting the back of the net, it will reflect that his team is most likely to score and the odds for that team will come down while the odds on the opposing team will go up.
What Bets Can I Make During a Live Game?
In-play betting is offered on a small range of sports where real-time statistics are available. This mainly refers to the top sports. There are dozens of in-game betting options available on live bet games, however, the betting markets offered will differ from sports to sports.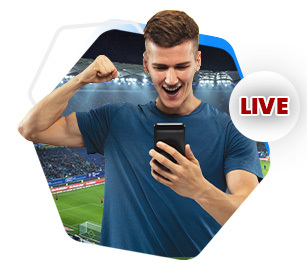 Here are some of the popular sports and betting markets which offer in-play betting options:
Football
Football is one of the most popular sports in North America and it gets most of the sports betting action in the region. You will find a juicy supply of betting markets on live games including top picks like moneyline bets, point spread wagers, totals, and player props online. If you're entirely new to live betting, make sure to check for in-play football betting tips to help you get started.
Basketball
The game of basketball draws a lot of attention in North America with the NBA being the biggest basketball league in the region and the world.
As a basketball fan, you will find numerous in-play betting options across all top basketball leagues. Traditional markets like point spread and moneyline are readily available on this sport.
You could also find point spread betting options like 1st Quarter/1st Half point spread. Totals could also be offered with betting options on 1st Quarter/1st Half total points.
Baseball
Weekend's MLB live betting is a common sight at the biggest online sportsbooks.
You can bet live during the World Series as it comes with numerous betting markets to improve your winning chances. Most in-play betting markets for baseball allow you to bet on totals and winning margins.
The most comprehensive sportsbooks add in prop bets on individual players, allowing you to place player props like run scores or strikeouts.
Hockey
Hockey is one of the biggest sports in North America and the main sport in Canada.
The game of hockey comes with lots of in-play betting action alongside numerous betting markets for bettors to choose from. Majority of the bets are placed on the NHL, where you can find just about every necessary betting market available.
Soccer
Soccer matches get the biggest in-play betting action when compared to other sporting events.
You can find live soccer betting odds on MLS games or move to Europe where soccer never sleeps.
You can choose from the likes of the English Premier League or other top European leagues and bet on Home/Away/Draw, Totals, Final Score, Props (check our soccer online betting guide to learn more).
Tips And Strategies To Live Sports Betting
Just like regular wagers, placing live bets also requires a good live in-game betting strategy. These live betting tips below should help you adopt a successful sport betting routine:
Start with Pre-Game Wagers
If you're new to sports betting, in-play betting is not the place you want to start your winning streak.
You need some information about the game, betting markets, and how to read odds which you can learn by placing traditional bets. This should help you grasp the ins and outs of sports betting before moving on to live bets.
Research the Games Beforehand
This should sound obvious, but betting on live matches with no prior knowledge about the teams is a great recipe for disaster.
You might want to check the stats of both teams or players, home/away advantage, current form, and formation. As the game unfolds, you can easily predict the final results and place your bet.
Pay Attention
Keep in mind that a live game is being analyzed by the bookmakers the same way you're keeping an eye on the stats.
Focusing on the game might give you an edge to make a bet just before the odds shift and reduce your chances of a bigger payout. Watch out for momentum shifts, shots on target, yellow/red cards, and many other factors that could change the dynamics of the game.
Use In-play Betting for Close Pre-Game Bets
While in-play betting is fun, it won't always give you the success you seek. Your best chance is to limit your live bets only to games that have a good chance of turning out the way you imagine.
In addition, you can use live bets to get better odds on a game which translates to a higher payout. For example, you want to bet on the New York Jets to win, but the pre-game odds are set at -200. This might not seem like a fair price for you so you can wait till the game starts and check if the live bet odds change in your favour. However, this can only happen if the other team scores quickly.
If the Jets get the ball and lead the game, the odds will drop even further. The good news is that you won't lose any money as you're yet to place your bet. You can decide to go for the smaller payout or pull out entirely.
Know the Interface
When it comes to live betting, it's not just about placing bets on your favourite games - you also have to read the stats to know what's happening on the field before making your choice.
Chances are the sportsbook won't offer live streaming so you won't be able to watch the game directly on the platform. Before placing a live bet, try to get familiar with the betting environment. Learn how quickly the odds are updated and what they mean.
Best Live Betting Sites In Canada
If you're looking for the best live sports betting Canada sites, you've come to the right place. After the legalization of online gambling in Ontario, we will recommend leading betting platforms that offer in-play betting across all popular sporting events. Make sure to always visit our website to learn about the latest happenings in the gambling scene.
Benefits And Drawbacks Of Live Betting
Benefits
Win money in real-time
Better betting decision
Bigger payouts thanks to improved odds
Drawbacks
Real-time odds are not as favourable as outright odds
Not all games are available
FAQ
Live bets are calculated when the game ends. This means the final result of the game determines if the bet is won or lost.

Live betting in soccer is placing bets on ongoing games in the MLS or in European leagues like EFL, La Liga, Bundesliga, or Ligue 1.

As a basketball enthusiast, live betting allows you to place bets on ongoing matches in the NBA, the EuroLeague, the NBLC and many more.

With the right strategies and tips, you can make a good profit on in-play betting. However, you will need to develop your skill before you can become a winner.

Yes. Live sports betting is legal in any state or province where betting on sports has been legalized.

If you're a newcomer, then you might want to consider betting before to get some experience. However, betting live is just as fun and lucrative as pre-game wagers.

In-game betting lines can run continuously until the end of the game, however, you don't want to wait that long to place your bet. The issue is that the betting lines get fewer as the game draws to a close.