Unified MMA Betting Guide
Last updated:
7 minutes read
The Unified MMA 46 Fight Night will take place on September 23, 2022 at River Cree in Enoch, AB. The fights included duels of some of the best fighters in Canada with UFC veterans.
Among the most exciting fights are the one between the former UMMA middleweight champion KB "The Bengal" Bhullar and the 5-time UFC Champion Curtis "Curtious" Millender. MMA fans wonder if Will Millender's hot debut in Unified MMA end with his victory?
In addition, Neal Anderson and Brandon "The Human Highlight Reel" Jenkins will face off in lightweight. Anderson has won 7 of his last 9 fights. Jenkins' stats are 15-9, including 10 wins by knockout and 3 by submission.
Unified 46 Fight Night Odds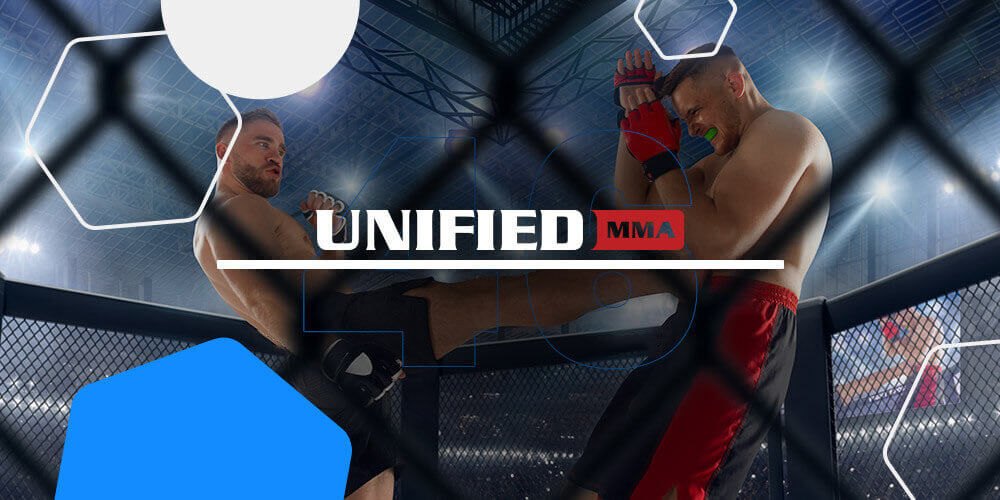 In addition to those mentioned at the outset, the following fights have been announced so far:
In the battle between the two toughest fighters in Unified MMA, Tom O'Connor (11-2) will try to register a second straight win over Tom Smith (16-12), former UMMA Canadian Champion.
Meanwhile, two of the most promising prospects in UMMA, Alex O'Neil (4-0) and Jett Grande (3-0-1), will lock horns in a catchweight duel of 160 pounds. It's important to remember that both fighters are undefeated, although Alex O-Neil has the upper hand.
Another highly anticipated bout is Tyrell Giselbretch (2-1) versus Sean Michael (2-0). These promising fighters are quickly rising through the ranks, so each will be eager to impress.
It's also worth noting the Unified MMA 46 tickets will be available at Ticketmaster.com from August 5. You can catch the Unified MMA stream on UFC Fight Pass.
What Is Unified MMA?
The company has organized at least 45 events with around 353 matches, making it one of Canada's fastest-growing MMA promotions.
Sunny Sareem, the President of Unified MMA, organized the first competition in 2009. Back then, the lifelong Edmonton native just did it as a hobby. But to his surprise, the competition has become one of the country's top MMA promotions.
Unified MMA has several weight divisions. For starters, you can stake your money on the heavyweight competition where Christian Larsen is the defending champion. Other categories include light-heavyweight, super-middleweight, super-welterweight, super lightweight, lightweight, featherweight, and bantamweight.
How Does Unified MMA Work?
Up to this point, you might wonder how Unified MMA rules work.
To begin with, this sport uses Unified Rules of MMA, which were adopted by multiple athletic bodies in the 2000s. To help you understand this competition better, we'll stack it up against UFC (Ultimate Fighting Championship) in the table below:
| | Unified MMA | Ultimate Fighting Championship |
| --- | --- | --- |
| Formed | 2009 | 1993 |
| Weight Classes | Strawweight (115 pounds) to Superheavyweight (265 pounds) | Strawweight (115 pounds) to Superheavyweight (no limit) |
| Number of weight divisions | 9 | 12 |
| Country | Canada | America |
| Attire | Close-fitting shorts and shirts | Close-fitting shorts and shirts |
| Number of rounds | One up to five rounds | Usually, three rounds but can reach five |
| Round score | 10 to 10 | 10 to 10 |
Unified MMA Best Fighters
In search of the top dogs at Unified MMA 46 currently? Here are some top names that you should consider backing:
Christian Larsen
Aged 35, Christian Larsen was born in Calgary, Alberta. He is the current Unified MMA Heavyweight Champion with two winning streaks.
In his professional MMA career, he has secured seven wins, two draws, and zero losses. As such, defeating him at this year's Unified MMA 46 will take a lot of fight.
Graham Park
Born in 1988, Graham Park is a Canadian professional MMA fighter who dukes it out in the Light Heavyweight class.
His current MMA professional record is quite impressive, winning eight duels, losing three, and drawing none. But approach cautiously because he lost his last fight in December 2021 against Mariusz Ksiazkiewicz.
Shane "Shaolin" Campbell
Are you a fan of the Lightweight category? You can consider backing this British Columbian fighter to win the class.
He is the Unified MMA 45 Lightweight champ and boasts of a hot 5-game winning streak. In his professional MMA career, he has participated in 28 fights, with 20 resulting in a draw. It's actually hard not to back this fighter!
Where To Bet Unified MMA Fights Online In Ontario?
As of April 4, 2022, a lot of sports betting sites were approved by the AGCO to offer sports betting services. The number increases further if you add licensed offshore bookmakers.
But all Unified MMA bookies are not the same. In this section, we want to review five top Unified MMA bookies in Ontario, Canada.
BetRivers
At BetRivers, you'll get some of the juiciest props with high-profile octagons allowing bettors to bet on groups of rounds. After our check, we discovered that BetRivers has multiple fights, including futures on Unified MMA competitions.
Rating: 4.3/5

Established in 2019, BetRivers is an American-owned sportsbook that accepts legal Unified MMA bets in Ontario.

Read BetRivers Review

19+. Gambling can be addictive, please play responsibly.

Banking choices are both quick and convenient
Every sporting event imaginable has odds

BET NOW
FanDuel
FanDuel is another American-owned bookmaker licensed to take MMA bets in Ontario.
Rating: 4.5/5

Although most bookies limit their MMA markets to moneyline and totals, Fandeuel goes over and beyond to offer double chance, which is quite rare. Overall, the MMA match selection here is unbelievable.

FanDuel Review

19+. Gambling can be addictive, please play responsibly.

Betting is safe and secure
Very fast payout time
Major odds types are available

BET NOW
BetWay
BetWay is a British gambling site that's licensed to operate in Ontario. It provides a wide range of MMA markets to bet on online.
Rating: 4.5/5

Although most bookies limit their MMA markets to moneyline and totals, Fandeuel goes over and beyond to offer double chance, which is quite rare. Overall, the MMA match selection here is unbelievable.

19+. Gambling can be addictive, please play responsibly.

Tons of sports betting markets
Wide live betting options
Fantastic customer support
Easy-to-use, highly intuitive platform

BET NOW
PointsBet
Founded in 2015, Pointsbet is an Australian bookie that legally operates in the US, Europe, and Canada.
Rating: 4.2/5

Bettors get to enjoy hundreds of UFC wagers here, with most competitions offering moneyline odds. As expected from a top Unified MMA betting site, PointsBet also covers live events with Cashout on select events.

PointsBet Review

19+. Gambling can be addictive, please play responsibly.

Spread betting is available
The sportsbook that is licensed and regulated
Customer service is outstanding
The app that is easy to use

BET NOW
Bwin
Still unimpressed by the options above? Try the UK-owned Bwin Sportsbook. This international sportsbook offers incredible odds on multiple Canadian sporting competitions like MMA, NFL, CFL, NBA, and more.
Rating: 4.0/5

MMA fans can bet on markets like moneyline and futures, with live betting on standby to help you get the most out of live events. What's best, you can claim your winnings before the outcome of a fight, thanks to the cashout feature.

Bwin Review

19+. Gambling can be addictive, please play responsibly.

One of the most reputable online bookmakers
A large number of betting markets available

BET NOW
The Best Types Of Unified MMA Fight Bets
Before placing any bet, knowing the available markets and how they work is critical. In UMMA, there are a variety of wagers to try out, including futures and live bets. However, take note that most bookies offer moneyline bets only. Let's take a look at UMMA markets:
Moneyline (2-Way)
This is the most popular market in Unified MMA. That's because it's the most straightforward to understand. Here, you only pick an UMMA fight and choose the fighter you think will carry the day. Yes, it's that simple!
For example, you can choose the Unified MMA 46 fight card that involves Tom O'Connor versus Tim Smith in the Lightweight category. In this bet, you choose a side that will win the fight based on their experience, aggressiveness, recent streak, and more. All that matters here is your fighter to win.
Double Chance
Moneyline bets can be risky in unpredictable MMA fights. As such, some bookmakers allow bettors to place a double chance bet.
In this MMA market, players choose the fighter they think will win the duel and how they'll win it.
You still don't get it? Consider this then: in the Unified MMA 46 fight between Jeff Grande versus Alex O'Neil, you can back any player to win the battle, but in the following ways:
Submission
Technical submission
KO
TKO
Unanimous decision
Proposition
Prop or proposition bets are wagers that punters predict whether an event will occur or not.
Although finding these UMMA bets can be a little challenging, they have bigger payouts than moneyline and double chance.
For example, an oddsmaker can give you odds to predict if a fighter will land a takedown. Other possible proposition bets in UMMA include:
The fighter lands the first strike.
Which fighter will bleed first?
If a fighter lands a takedown.
Futures
Futures are generally self-explanatory bets in Unified MMA gambling. As the name of this market hints, future bets allow bettors to predict the outcome of the UMMA fight months or weeks before the event begins.
As of now, some Canadian bookies are already accepting future bets for the upcoming Unified MMA fights. And remember, you can't alter a bet after placing it, although the odds are big.
Live betting
Live bets are pretty commonplace these days. Many Ontario bookmakers allow punters to place a bet after the fight has already started.
The good thing about live MMA bets is that bettors already know who is likely to land a KO or tap out. So, let's just say that live bets can be hugely profitable if you're ready to stake good money.
How To Bet Unified MMA In Ontario?
Placing your first bet in Unified MMA is a relatively simple process. Here's how it goes:
1. Find a reliable Unified MMA sportsbook

Many bookmakers accept UMMA bets. However, not all of these bookmakers are licensed to operate in Ontario.

In that case, choose a Unified MMA bookie from our five recommendations above. Besides licensing, a reliable MMA bookie should offer competitive odds, cover multiple fights, have dedicated support, bonuses, and other betting essentials.

2. Sign up for an amount

After finding the best UMMA bookmaker in Ontario, create a betting account.

The bookmaker often requests information like username, password, date of birth, email, and more. Once you provide these details, the account creation process is instant.

4. Place a bet and process a payout

Next, search for the specific Unified MMA event fight you want to bet on and create a bet slip.

After this, confirm the bet slip and wait for the outcome. It's that easy!
Other MMA Organizations From Canada
Not a fan of Unified MMA? No problem! Here are some other Mixed Martial Arts competitions to consider:
MFL (Montreal Fight League)
MFL is a very popular MMA promotion. But this time, fighters participate in Montreal, Quebec. To date, MFL has held 22 events, presiding over five matches. The most recent MFL event was held on August 13, 2022.
Like UMMA, this MMA promotion can have anything between one to five rounds, with each bout lasting five minutes. A good example is a heavyweight event between Quinn Blacksmith and Jeffrey Fuchs, which ended in round two in favour of Blacksmith.
BTC
Lastly, you can buy BTC 17 tickets, which will go down on September 24, 2022. This MMA promotion has its headquarters in Burlington, Ontario.
Unlike Unified MMA, where round scores are made on a scale of 10 to 10, BTC judgement rounds have a maximum score of 30 to 30. The BTC fight promotion has eight MMA bouts.
In the meantime, you can purchase the BTC 17: Evolve ticket at Ticketscene.ca for C$90.40. The event will happen at 5041 Fairview Street, Burlington Training Center. The event will start at 18:00 and end at 22:00. So be there on time!
Summary
We hope you're now ready to bet and claim your win on the upcoming Unified MMA 46.
Actually, you shouldn't have any trouble betting on this competition as the bets are pretty easy to make. Just research the fighter likelier to win the match and place your bet at one of the legal betting sites in Ontario.
FAQ
Established in 2009, Unified MMA is a Mixed Martial Arts promotion based in River Cree Resort & Casino, Enoch, Alberta.

This organization has so far hosted 45 events, with Unified MMA 46 scheduled for September 23, 2022. The matches feature up to six bouts.

MMA low-level fighters can generally earn at least $300 for appearing in a duel and a similar amount for winning the fight.

However, this can increase as fighters continue to build their profile with more games.

Unified is simply a set of clear rules governing professional Mixed Martial Arts competitions.

Athletic commissions and governing bodies agree upon the rules. This includes fouls, prohibited substances, and judging criteria.

Sunny Sareen, also the organization's president, owns Unified MMA. He organized the first professional Mixed Martial Arts event in 2009. Up to now, Unified MMA has managed up to 45 events.

You can watch Unified MMA 46 on UFC Fight Pass, the world's most famous combat sports streaming service.

Founded in 1993, the UFC is the apex MMA organization. This competition features 12 weight divisions, attracting the best fighters in the sport. So as expected, the UFC pays fighters the highest rates.