How To Use Interac Online In Sports Betting?
Last updated:
10 minutes read
Wonder how to use Interac online in sports betting? This guide will show you everything you need to know about this payment method, including the best Interac bookmakers, how to sign up for an Interac account, and many more. Knowing this, let's get started!
Betting Sites That Accept Interac
Many platforms accept Interac e-transfer. Here are a few of the options available.
Platform
Min/Max Deposit
Withdrawal Time
Fees
Bet365
C$10 /
C$10,000
Within 24 hours
Free
BetRivers
C$10 /
Not Specified
Within 1 hour
Free
FanDuel
C$10 /
C$10,000
Within 24 hours
Free
888Casino
C$10 /
Not Specified
1 – 3 days
Free
BetMGM
C$10 /
C$10,000
1 – 3 days
Free
Bwin
C$10 /
Not Specified
1 – 2 days
Free
LeoVegas
C$10 /
Not Specified
24 hours – 3days
Free
Rivalry
C$15 /
C$10,000
24 hours – 3 days
Free
Royal Panda
C$10 /
Not Specified
1 – 5 days
Free
Party Sports
C$10 /
Not Specified
1 – 3 days
Free
What is Interac?
Interac is a reliable payment option supported by numerous online sportsbooks and merchants. It has transformed how Canadian players carry out payments in sportsbooks to and from their accounts. You will find this payment method in most top Canadian bookmakers today.
How Does Interac e-Transfer Work?
Interac e-transfer allows you to make and receive payments seamlessly and securely.
You can make online transfers to others by logging into your online bank account with this payment option. Once you do this, select the option tagged Interac e-transfer and click on the send button.
Then, you will be required to input the phone number and email address of the person you are sending to. If you prefer, you can add a reason for the transaction similar to traditional online transfers.
Pros & Cons of Interac E Transfer Payments at Sports Betting and Online Casino Sites
There are many benefits to using Interac in Ontario online casinos, so it is the preferred option for many players. However, it also comes with a few drawbacks too. Before you settle for this payment method in a sports betting platform, you need to compare both aspects to know if it is right. Below, we will be looking into both of these, starting with the pros.
Pros
Wide Acceptance - Interac is very popular for making online purchases in Canada, and you won't have issues finding an online sports betting site or casino that accepts this method. You will find it in most leading sportsbooks, ensuring you can start betting when you want.


Fast Transactions - Many bettors in Canada opt for Interac as their desired payment option because of the speedy transactions.

Deposits are instant, which means you don't have to wait around for a long time before you can start making wagers. Withdrawals are also fast as they may take a maximum of 3 days which is still better than options like bank transfers that may take up to 7 business days.


Safe and Secure Transactions - Interac allows you to process payments safely and securely, another reason for its popularity.

Whether you are depositing money in your sports betting account or making online purchases, your transactions are safe. It uses numerous security measures like secret questions and answers to protect customers.

You don't need to provide your information to the online betting site, ensuring it does not fall into the wrong hands.


Low Fees - Another major benefit of using Interac on online platforms is that it does not come with too many fees.

This is very important as a bettor as excess fees can dip into your earnings. With Interac, the fees are minimal and help you manage your bankroll, ensuring you don't fall into debt.
Cons
There are a few drawbacks to this payment option like all beneficial things. Some of these include:
Transaction Expiry - If you fail to accept transactions within 30 days, it will expire.

For instance, if the sports betting site does not debit your account for some reason, the transaction will expire. This can be sorted out, but it might take a while, thus causing delays to gambling activities.


Possibility of Phishing - Interac offers transaction notices through email. There is a possibility of these being phished by fraudsters.

If you provide your password or other vital information in these emails, your account may be compromised, causing you to lose your funds.

Fortunately, these are easy to handle as you only need to avoid providing sensitive information to anyone via email. Reach out to the Interac support team when in doubt.


Not Supported in All Platforms - Unfortunately, not many betting sites support Interac as a method of payment.

It can be sometimes frustrating to register on your preferred casino site only to see that there is no option for Interac. Nonetheless, this should not be a major issue as many top platforms allow you to use Interac.
What Canadian Banks Allow Online Gambling?
Not many Canadian banks support deposits and withdrawal of funds for online gambling. However, you will still find a few options if you opt for this method. These include:
The Bank of Montreal
This top Canadian bank supports online gambling payments because it categorizes them as cash transactions which is not illegal.
Canadian Imperial Bank of Commerce
CIBC processes online gambling transactions without issues, and it is one of the top choices for players today.
Royal Bank of Canada
RBC's credit card agreement states that it does not allow transactions that have to do with online gambling.

However, many players have found that first sending the money to an eWallet before sending it to the casino account seems to work. Thus, it is an option many players use.
Bank of Nova Scotia
It only processes gambling transactions in corporations established and owned by the government.
Toronto-Dominion Bank
This bank does not support online gambling transactions, and doing so can lead to your account being banned.

However, like the RBC, you can first transfer to an eWallet before sending it to your online casino account.
How To Use Interac Online In Sports Betting?
Interac allows you to make payments using supporting banks. All you need to do is head to your online banking account and choose Interac as your preferred option. Note that this option will only be visible if your bank supports transfers using Interac.
Also, you must already be registered with the payment provider to get started. Once you register on your preferred sportsbook, you will be able to make deposits and withdraw funds with ease.
What Options Does This Operator Offer?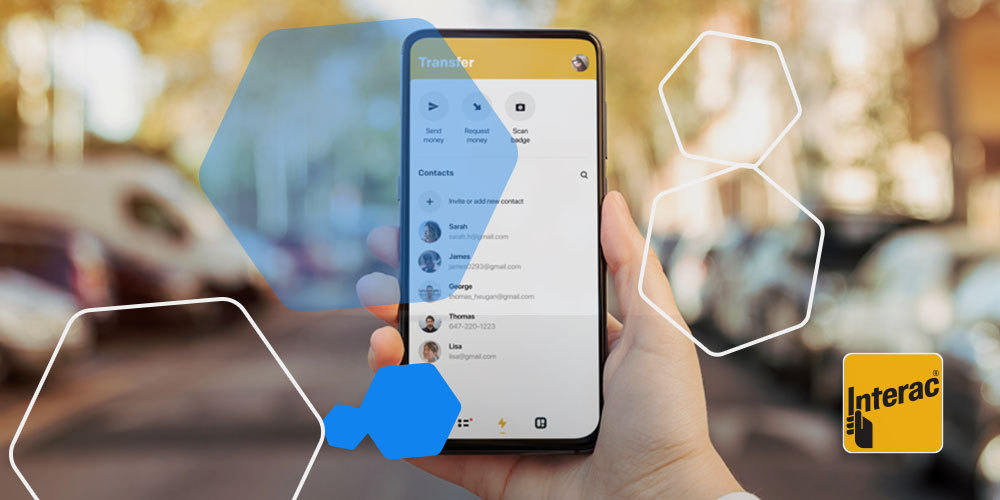 Interac provides you with a broad range of options once you open an account. You can choose anyone you prefer depending on your needs since they serve different purposes. This means it is important to understand all of the options and how they work. We have compiled a list of these options below.
Interac Cash
This is a service offered by Interac that allows you to withdraw cash from an Automated Banking Machine or ABM.
You can withdraw cash from your bank account securely and promptly. To withdraw funds using Interac Cash, you will first need to locate an Automated Banking Machine with the Interac logo, slot in your card, and input the amount you want to withdraw and your PIN.
The process is similar to typical ATM withdrawals and may come with some changes.
Interac Online
With this Interac service, you can make payments online without having to share your details online.
To transfer money using Interac Online, you'll need to head to the banking page of the merchant and choose Interac Online as your preferred option.
Next, you'll have to select your bank, log into your account, enter your desired amount and confirm the payment. Once the payment is processed, you will be redirected to the merchant's website.
Interac Debit
This was one of the services first provided by this company. With this, you can make online and land-based payments at specific locations in Canada.
This debit card also functions in over 2 million retail outlets in the US and can be attached to Google Pay, Apple Pay, and Samsung Pay. This option is easy to use and is no different from using the ABM or a traditional ATM.
Interac Flash
This payment service lets you make contactless payments by holding your card close to the POS terminal or tapping it.
Once you do this, the device instantly links to your bank account, and the transaction is carried out in seconds.
Many retail outlets accept Interac Flash in Canada, and payments are securely processed. However, each transaction comes with a $100 limit with an overall limit of $200. Once you get to this limit, you will need to slot in your card to the POS device and input your PIN. This helps safeguard you from fraud, ensuring you don't lose your cash.
Interac E-Transfer
The Interac e-transfer option is another service offered by Interac. With this, you can make and receive speedy payments with ease.
Payments with this option cannot be reversed, and you will need to log into your online banking account and choose it as your preferred option. Then, input the phone number and email address of whoever you want to send to and click send.
How To Create An Account?
Registering for an Interac account is extremely easy and does not require any extensive knowledge. The steps below will help you do this without issues.
Step 1

Sign in to your Mobile Banking or Online Banking App.

Step 2

Choose "Interac e-Transfer" from the available options.

Step 3

Input your name, and email address alongside a Canadian phone number.

Step 4

Enter the bank account you want to be linked with Interac.

Step 5

You will get a verification request through SMS or email. Respond to this request for your registration to be verified.
How Much Does It Cost to Use Interac?
The cost of Interac differs depending on the Interac service you choose.
Fortunately, most of the fees attached to this payment option are extremely low and should not dip into your earnings. However, some online betting sites may charge you a fee for using it.
Also, even though this hardly happens, some financial institutions may attach fees to transactions.
We have covered the fees attached to the common Interac options in the table below:
| Interac Service | Attached Fee | Description |
| --- | --- | --- |
| Withdrawals via ABM | A flat fee of C$0.75 | For every withdrawal completed |
| Interac Debit | C$0 | No fees attached |
| Contactless Payments | C$0.02 – C$0.035 | Per purchase transaction completed depending on the Merchant tier |
| Interac Debit using Google Pay and Apple Pay | C$1.80 flat fee on transactions above $30060 basic points on transactions not more than C$300 | Every eligible transaction |
Are there any limits?
Yes, there are limits attached to payments using Interac. However, the financial institution may attach its limits which you can find on the bank's official site. In most cases, the sending limits for Interac are as follows:
Daily: C$ 3,000
Weekly: C$ 10,000
Monthly: C$ 20,000 – C$ 30,000
The limits are slightly higher for withdrawals, but you will also need to note the bookmaker's limit and that of your financial institution. In most cases, the limits for Interac e-transfer are as follows:
Daily: C$10,000
Weekly: C$ 25,000 – C$ 70,000
Monthly: C$ 50,000 – C$ 300,000
Interac T&C In Relation To Sports Betting
Before you use Interac on a sports betting platform, there are a few things you need to note to avoid issues in the long run. These include:
You can only Interac e-transfer to send cash or receive funds that are yours.

This means you will be unable to collect funds that you are not the recipient of.

Make sure the sports betting account is in your name.

This is because Interac e-transfer does not support payments to accounts not in your name. You also can't use Interac to send cash from another individual's account.

If secret questions and answers are attached to an Interac e-transfer from your sportsbook, make sure you discuss the answers in advance. If you get the secret answers wrong, you may be unable to claim your winnings.

You will be required to verify your identity before any Interac e-transfer transaction will be processed. If you fail to do this, the payments will not be processed.
How To Deposit Money With A Bookmaker Using Interac?
To make an Interac deposit, you must set up your online banking. Next, you need to ensure your bookmaker supports Interac transactions. This should not pose any difficulty since most of the top betting sites in Canada accept this payment option.
Also, you need to make certain that the cash in your bank account is up to the amount you require for the transaction. Once these have been sorted out, follow the steps below to deposit on your betting site with Interac.
Step 1

Head to the sportsbook and create an account if you have not done this.

Step 2

Find your way to the cashier/banking page of the sportsbook and pick Interac as your desired payment option.

Step 3

You'll be offered a list of all the financial institutions you can choose from. Pick the one you have an account with and log into your online banking account.

Step 4

Pick the account you want to pay from and input the desired amount you want to send to your online sportsbooks account.

Step 5

This will redirect you to the Interac banking page, where you will choose your bank and conclude your deposit.

Your funds will instantly appear in your bookmaker account if you do it right. Sometimes, a secret question and answer may be required. You can get this by reaching out to the sportsbook's customer support in advance.
As you can see, making deposits on bookmakers with this option is extremely easy compared to many other methods. Verification of your identity is instant, unlike other options, which may require weeks. Ultimately, you should not have an issue making deposits if you follow these steps.
How to Withdraw Funds from Bookmakers' Accounts With Interac?
Most Interac online betting sites will require you to make withdrawals the same way you made a deposit. This means if you use Interac to make deposits, you will be able to use it for withdrawals too. To withdraw using this payment method, follow the steps below:
Navigate to the banking/cashier page of your sportsbook.
Choose Interac as your desired withdrawal option.
Input your desired withdrawal amount and confirm the payment.
You will need to input your personal details like name, email address and phone number.
Once this is done, log into your online banking account, and select the option to receive money via Interac. Then, accept the transaction and wait for your funds to hit your account.
Is Interac Safe?
Yes, Interac is highly secure, which is why many bettors pick this option as their preferred option of payment. First, it has existed since 1984, which signifies its reliability. The fact that it has existed to date means it is doing something right. Also, it is supported by numerous Canadian banks, which would not have been the case if it were unreliable.
It uses top-of-the-line security measures to keep users safe, making it one of the best options for Canadian players looking for a safe payment option. It also uses end-to-end encryption technology, which helps keep your details private, ensuring it does not fall into the wrong hands.
In addition to this, financial establishments that support Interac have very safe login processes. You will need to use your secure user ID and password to log into your online banking account first.
Then, you will have to set a security question and answer, which the recipient must answer. If they fail to answer it, the transaction will be cancelled, and you will have the opportunity to reclaim your funds. This means even if you mistakenly send the funds to the wrong user, they will be unable to claim the funds.
Asides from the above, you can also ensure keep yourself safe when using Interac to bet on online sportsbooks using these tips:
Select a hard to guess password and don't share it with anyone
Make sure the security question is difficult for strangers to guess
Look out for fraudulent emails requesting your password or other sensitive information
Only bet on licensed and reliable sportsbooks
If you follow these tips, you should not run into problems using Interac.
Practical Tips for Users Who Use Interac At Sports Betting Sites
If you have decided to use Interac at your favourite sports betting sites, the tips below can help you get the best outcome.
Stick with a budget

It is very easy to get carried away with the ease of making deposits using Interac and spend more than what you have allocated for betting.

For this reason, you must have a budget and stick with it. When you have exceeded your set budget on a sportsbook, it's time to stop.

Take note of fees

Some sportsbooks and financial institutions may attach extra fees to Interac payments. Make sure you note the fees first before you register on any platform.

Play on only licensed bookmakers

Don't share your password

Choose a strong Interac password and don't share it with anyone. This will ensure no unauthorized person can access your account.
Alternative Payment Operators Available for Bettors From Ontario
If you would rather use other payment options asides from Interac, there are many other alternatives available for Ontario players.
This payment option was initially created as Moneybookers and has been existing since 2001.
It was purchased by Paysafe Group in 2015 and was renamed Skrill. This eWallet allows you to make fast and secure payments and is a top choice for online players. It also supports payments in about 40 currencies, making it ideal for players in Ontario.
This is an e-wallet based for Canadians that links your bank and your casino account.
This allows you to make secure and fast payments. It is also accepted in numerous Canadian banks, making it a great alternative to Interac.
Paysafecard is a top prepaid online payment method that uses a voucher which has a 16-digit PIN.
It does not require your personal information, making it a secure alternative to making payments on online gambling websites.
Summary
Ultimately, Interac is a leading payment option for bettors in Ontario.
It offers you the chance to make payments on online platforms seamlessly. Also, you can choose from various options to suit your requirements.
However, it is not supported on all betting sites and may be susceptible to phishing. Nonetheless, these are not major drawbacks as Interac offers many more benefits to counter these drawbacks.
We recommend you check it out when next you want a reliable payment option.
FAQ
Yes, Interac is a secure payment to use for sports betting. However, you need to ensure you are playing on a licensed platform.

Yes, you will have to verify your identity to make Interac payments. This will help protect you from fraudulent individuals.

No, you don't pay additional fees with Interac. However, the sportsbook or financial establishment may include extra fees.

Deposits are instant in sports betting sites, while withdrawals may require up to 3 days.

To cancel an Interac e-transfer at RBC, head to the Pay Bills and Transfer Funds" section. Then, head to the tab for "Payment History" and choose the confirmation code of the Interac e-transfer to cancel it. On the details page for Interac e-transfer, select cancel payment.

Yes, mobile sports betting is legal for players in Canada.

Yes, bet365 accepts payment via Interac e-transfer.

Withdrawals using Interac in bet365 require 24 hours to process.

No Interac requires you to log into your banking app to send funds.

If you don't want to receive the funds sent to you via Interac, you can decline it. If you prefer, you can ignore it, and it will expire in 30 days. When this happens, it will be sent back to the sender.

If you answer the secret question wrong too many times, it will be cancelled, and the funds will be sent back to the sender.