Referral Code for Sportsbooks in Ontario
Last updated:
4 minutes read
What is sportsbooks' referral code in Ontario? Where to find a code and how to use it? Read our guide to get the most relevant information.
In this article, we will provide you with all the information you need to understand how the referral code works for Ontario legal bookmakers. Read the entire piece or jump straight to the section that interests you the most.
What is a Referral Code?
A referral code is a unique combination of numbers, letters, or both used to identify the participation of a customer in a referral program. Exemplary referral code may look like e.g 1854AD45.
The referral code for sportsbooks enables people to register on any of the available legalized bookmakers in Ontario and it can be found on Canada Legal Betting as well as the websites of individual bookmakers along with the terms and conditions.
Read on to know where to look and how to use these referral codes available on the Canada Legal Betting website.
How Does Sportsbook's Referral Code Work?
The referral codes can be gotten from the websites of a particular bookmarker.
When someone funds his or her account with real money, he or she may enter the code and use dedicated offers, to which they will get access after switching to the operator's website.
In return for redirecting the client, the referrer gains particular amount of commission.
Check out our referral codes for some popular online bookmakers in Ontario:
Disclaimer: Referral Code is used for marketing/tracking purposes only.
Referral Codes In The Light Of New Regulations In Ontario
Here are a few words about why we do this that way...
Sports gambling is completely regulated and legalized now in Ontario since April 4th, 2022. Players in the province will have access to famous brand name sportsbooks like bet365, theScore bet, Betrivers, and so many others (get access to the most up-to-date bookmarkers operating legally in Ontario).
Over 18 sport betting online operators got approval to launch in the province. Ontario has also launched its legal online market followed almost 3 years of work after the government made known its intentions to end the lottery's online gambling monopoly in April 2019.
To this end, online sportsbooks and casino games are now legal and as long as you are at the right legal age for betting, and location in the province, you can play in any online casinos available in Ontario.
iGaming Ontario, the subsidiary of The Alcohol and Gaming Commission of Ontario (AGCO) is responsible for the new market as well as issuing licenses to operators to operate in Ontario. Now that the province has taken responsible gambling seriously, private internet casinos will have to follow suit. More responsible gambling programs are required as a result.
Note, that AGCO have made promoting responsible gambling a top goal. They seek to ensure that online betting advertising and marketing do not target vulnerable persons, such as kids and at-risk individuals, and that online casinos do not deceive the public through advertisements.
They'll make sure that players in Ontario's private internet sportsbooks & casinos understand the rules of the games they provide, as well as their possibilities of winning and the likely outcome. They will also ensure that problem gamblers have easy access to the services they need to seek treatment if they require it.
Sportsbook Referral Codes At Canada Legal Betting
User safety is the most important thing. For this reason, the legal regulations provide for responsible gaming on all the bookmakers presented at Canada Legal Betting.
Sports betting is legal when you use the provincial sports lotteries and this lottery can be found on Canada Legal Betting website.
Please note that on our website we adhere to the iGaming Ontario policy and we make sure that users always receive the most up-to-date information on what the respective bookmakers are offering.
That is why, after meeting strict conditions, we received dedicated referral codes from bookmakers and may link our readers to use them.
Where I Can Find A Referral Code For Sportsbooks Legal In Ontario?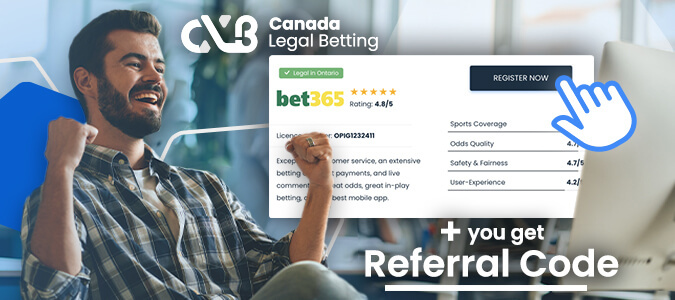 The sportsbook referral code is related to a link that leads on the pages of our reviews of legal bookmakers in Ontario directly to their sites. It is where the user will find what the bookmakers in Ontario have prepared for users.
In this model of operation, by registering new accounts with bookmakers from the links on our website, you support our work by motivating our team to provide you with new interesting and useful content on a regular basis.
The sportsbook's referral codes you can find at the following sections of our website:
In the articles published under "Referral Codes" tab in the main menu
Under the buttons provides in rankings of the sports betting operators legal in Ontario
After the clicking on the buttons provided in the sportsbooks' and online casinos' reviews.
How To Use Referral Codes For Sportsbooks In Ontario?
It's one thing to get a sportsbook referral code and it's another thing to know how and when to use it.
As you may have noticed by now, there are couple of ways in which you can register with your referral code and steps to take in doing so.
To put the thing simple, you may register via the links included in the rankings and reviews we publish on our website. Here are a few steps to follow:
Click on the link of any of the bookmaker you want to register with using "Sign Up" and "Register Now" buttons

You'll be redirected to start with your registration process and get to a point where the referral codes are requested.

Enter the referral code from the bookmaker. Choose the one that best suits your needs.

Remember! Before using the referral code, read the corresponding terms & conditions on the bookmaker's website.

Join the chosen sportsbook and have fun.
The above steps give the same opportunity which is joining a particular bookmarker. Some things to pay attention to when registering on a particular bookmarker, are your password, username, your security code including the terms and conditions of that particular operator. Detailed information on how to register with individual operators can be found in the reviews dedicated to them.
Conclusion
From the above, it can be reduced that sportsbook referral codes are a nice option and add-on for the registration of any of the legalized bookmakers in Ontario.
For every one of the bookmakers, there are different referral codes, for instance, the bet365 referral code is different from the Unibet referral code, so it is for the rest legalized bookmakers.
With sportsbook's referral codes and links we use here we get a commission for every referral. Remember that by registering your bookmaker accounts from the links published on Canada Legal Betting, you support the work of our experts (read more about our experts).
As a result, we are able to actively run this website and provide you with constantly up-to-date and interesting content.
Thank You!
FAQ
A referral code is a code given to a customer as a means of identification, which contains numbers and letters. This code enables new users to activate specific conditions during signing up in a particular bookmarker.

Sportsbooks referral codes can be gotten via links published at the rankings and reviews at Canada Legal Betting.

For the over 18 legalized bookmakers in Ontario each of them has its various referral codes we link to from our Canada Legal Betting website. These codes can also be found directly on the operator's websites.