Caesars Sportsbook Ontario Review
Last updated:
17 minutes read
Licence number:
OPIG1234872
Caesars is undoubtedly the most well-known gaming brand. The brand is a major player for sports bettors who have frequented the Las Vegas sportsbook throughout the years. Now legally available in Ontario!
Sports Coverage

4.3/5

Odds Quality

4.1/5

Safety & Fairness

4.6/5

User-Experience

4.4/5
19+ only. Gambling can be addictive, please play responsibly. Eligible iGames conducted and managed by iGO are only available to those physically present in the Province of Ontario. This content is the advertisement and the sole opinion od Canada Legal Betting experts. Check the principals of responsible gambling in Ontario.

Pros
Quick deposits and cash outs

Wide range of betting markets

Enhanced and easy to use mobile app
Cons
More features need to be added to the live betting option

Caesars sportsbook betting options are a step behind some other platforms of the same standard
Product offer
Sports
Live Betting
Casino Online
Poker
Welcome to our review of Caesars, an online casino and sportsbook that offers a wide range of exciting features to players from Ontario.
Our in-depth review takes you through the various games on offer while also providing information about how you can contact customer support, make your first deposit, and more.
How Does Caesars Sportsbook Work?
| Feature | Availability |
| --- | --- |
| Number of sports | 14 |
| Sports betting markets | 140 |
| Average bookmaker's commission | 6% |
| License number | OPIG1234872 |
| Live streaming | Yes (7) |
| Cash-out function | Yes (All sports) |
| Casino online | Yes (BlackJack, Slots, Poker, etc) |
| Average casino games RTP | 99.5% |
| Mobile application | Yes (Android and iOS) systems |
Caesars Sportsbook Canada Overview
Caesars sportsbook Canada was launched in Ontario, Canada's most populous province, on Monday, April 4, 2022.
After the launch, the bookmaker was immediately ready to use and it has been providing its standard service without any breach. However, it has secured its spot amidst competitors. Its sleek website and mobile app have been a popular wagering tool for online sports bettors.
The Alcohol and Gaming Commission of Ontario (AGCO) works with iGaming Ontario (iGO) to license privately-owned sports betting sites in Canada. Caesar sportsbook met the standards of the new law and has been legalized among legal online bookmakers in Ontario. Individuals of legal age (19 years) can visit their site for more experience.
Caesars sportsbook Canada also boasts effective live streaming features and an incredible live betting page. Cash-out options are available to players even when games are still in progress.
The betting odds are relatively high compared to other sportsbook platforms. The mobile app and website page work perfectly with Androids and IOS systems which make it easily accessible for players.
User Reviews
Caesars sportsbook Ontario has been tagged by several users across social media platforms such as Facebook, Twitter, and Trust pilot. Some of the reviews are positive while others are negative, and there are some that are about criticism. A few examples include:
Positive Reviews
"@CaesarsSports looking like the FYRE FESTIVAL of sports betting apps?#CaesarsSportsbook" - @blohawk
This user praises Caesars sportsbook and regards it as one of the best sports betting platforms.
"Actually, @CaesarsSports reached out to me today to address concerns and answer my questions. They are clearly trying to improve customer service and make the app more user friendly. Guys who called me were genuinely helpful and open to constructive criticism. #sportsbet #boxing" - @loudibella
This user appreciated caesar customer care for their professionalism and genuine help. He also noted the fact that they were eager to listen to complaints.
Negative Reviews
"#CaesarsSportsbook is terrible. I've only recently been able to log in with the mobile app. I stopped using it because of the problems they were having. Now I can finally login and all my free bets went away. Going to use a different platform." - @dball1126
This user was displeased because he is not able to log in to the caesar sportsbook mobile app at a particular time. This made him lose his free bets. The possible reasons include a temporary glitch on the mobile app.
"#CaesarsSportsbook WORST BOOK OF ALL TIME. KEEP TERMS AND CONDITIONS HIDDEN SO YOU DO NOT GET UR PROMOS. CUSTOMER SUPPORT HORRIBLE. @WilliamHill" - @PeridSean
This user is displeased with Caesars sportsbook because he was not able to access the terms and conditions. He is not able to get his promos because of this predicament.
"The more & more the intolerably annoying #CaesarsSportsbook ads run with the insufferable #jb smoove the more & more the feeling grows to NEVER use that gambling app & NEVER support anything @ohsnapjbsmoove (btw, the thin skinned hack blocked my account) #pathetic" - @TruthHurtsRR
This user is displeased because there are many ads on the Caesars sportsbooks app and platform.
Sports Betting Online At Caesars Sportsbook Ontario
Caesars sportsbook Ontario provides bettors with a variety of sports events. Players can wager on different sports such as hockey, golf, soccer, football, baseball, basketball, boxing, and MMA.
Caesars sportsbook odds percentages are better on the average when compared to other bookmakers such as 888, Bet365, Unibet, etc. However, bookmakers such as Proline+, BetRivers, Pointsbet, etc., offer a slightly better odds margin on some sports compared to stipulated odds on Caesars sportsbook.
Some of the most popular sports available for waging on Caesars sportsbooks include:
Basketball
Some of the options to include straight win, point spread, team props, money line, handicap, quarter/half bets, player rebounds, player assist total points, etc.
Hockey
Hockey is a sport that is celebrated worldwide, and it is no different in Canada. There are many betting options available for ice hockey at Caesars sportsbook Ontario.
The most popular leagues include the National Hockey League (NHL), American Hockey League (AHL), and the Canadian Hockey League (CHL).
Each of these leagues has its game schedule that provides an opportunity for placing bets on their outcomes.
There are numerous betting options available for you to bet on at Caesars sportsbook Ontario when it comes to hockey. You can place wagers on individual games and teams, or you can also bet on overall tournament winners like Stanley Cup Finals or Stanley Cup Playoffs, depending on what kind of action you prefer.
If you like wagering on futures markets, then there are also plenty of opportunities for doing so as well with things like odds to win the Stanley Cup MVP award or odds to win a scoring title during the regular season, etc.
There are also other types of bets such as puck line bets where you can choose between two outcomes such as over/under total goals scored by both teams. Others include alternate lines, period lines, winner, team props, etc.
Baseball
Baseball is one of the most popular sports in North America. Caesars sportsbook offer a variety of markets and betting options for bettors to place bets on baseball.
With baseball leagues available on their site, you can bet on just about any team that you want to.
The odds margin for the market is usually pretty good, so it's worth checking out if you're looking for a place to play.
The main leagues that are offered at Caesars sportsbook Ontario include Major League Baseball (MLB), MINOR LEAGUE BASEBALL (MiLB), Mexican League, NCAA, as well as international leagues like the Japanese Baseball League. Popular betting options include straight wins, money line, number of runs, point over, etc.
There are also options for getting individual games, including pre-game wagers and in-play wagers on live-action. If you want to bet on an individual player, they also offer this option as well - you can even combine your bets with another player to get better odds!
They offer all of these options both in-house and online, where you can bet on your favorite team or individual players by placing wagers online or through their mobile app.
Football
Football is one of the most popular sports in Canada, and Caesars sportsbook Ontario is one of the best places to place your bets on football games. The football market at Caesars Sportsbook Ontario offers bets on all major leagues, including NFL, NCAAF, CFL, and more.
The operator also provides various betting options such as straight win, over and under points, half time win, spread bets, moneyline bets, parlays, teasers, and futures.
An average margin is about 2.0%, which means that if you bet $100 on an NFL match and win $200, your profit would be $100 after commission fees are deducted from your winnings.
Golf
The golf market at Caesars sportsbook Ontario is one of the most popular markets on the site. It's always a busy market, but during the PGA Tour and other major golf tournaments, it's even more active than usual.
There are many different golf leagues available for betting at Caesars sportsbook Ontario. These include professional golf tours such as PGA Tour and LPGA Tour; amateur events such as Web.com Tour and Champions Tour; international competitions like Ryder Cup and Solheim Cup.
You can bet on individual golfers to win or bet on which country will have the total points in each tournament. Betting on individual golfers is one of the most popular options for people who play golf games online or offline.
The best part about betting on individual players is that it allows you to pick your favorite player and win money even if they don't win! This type of betting option is especially useful when there are multiple players competing against each other during a single game because it gives everyone a chance to win something no matter what happens during that game!
Soccer
The sport of soccer is one of the most popular globally and has a global audience. Soccer leagues are played all over the world, but there are only two major leagues that have global recognition - the English Premier League (EPL) and La Liga.
Soccer betting online at Caesars sportsbook Ontario has a wide range of markets to choose from, including head-to-head contests, over/under betting, and side bets such as first goalscorer or total corners.
The average odds margin for soccer bets at Caesars sportsbook Ontario is 1.47, which is lower than many other sports, such as basketball or baseball, where it can be up to 2 points higher than soccer odds margins.
Tennis
At Caesars sportsbook, bettors are provided with a huge tennis market. Odds are drawn from several tennis games that take place every year.
Some of these tennis tournaments are popular, and this helps improve the odds of the market. These popular tournaments include FRENCH OPEN GRAND SLAM, ATP BARCELONA, WTA STUTTGART, TALLAHASSEE, etc.
On the Caesars sportsbook website, there are a variety of markets available for tennis sports players. Options such as game-winner, handicap, sets under, sets over, and total games under and over are available for wagers. The odds are highly favorable compared to competitors.
Cricket
Players can bet on cricket games with odds drawn from the major cricket tournaments around the world.
These are the ICC WORLD CUP 2023, ICC T20 WORLD CUP 2022, and others, with more cricket tournaments set to be included in the near future by Caesars to expand the betting market for cricket.
Propositions, amount of wickets, player specials, and other cricket betting possibilities are available on Caesars.
Live Betting At Caesars Sportsbook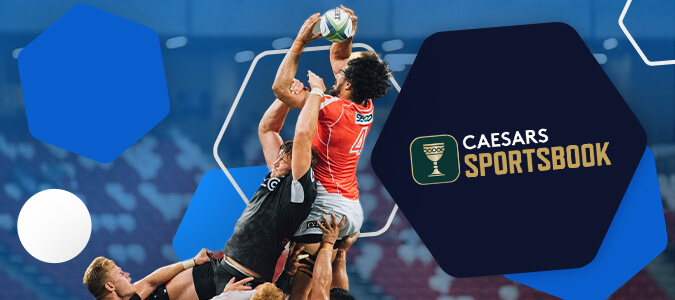 Caesars sportsbook live betting section is a great place to bet on your favorite sports. They offer many different types of bets, including spread, moneyline, and over/under.
The live betting section also offers various wagering options for each game. You can bet on the first half or second half of the game, whether it will be a high scoring game or low scoring game, which team will score the most points during the game, which player will score the most points, and many more options.
Other betting markets are also readily available. Caesars sportsbook,Proline+, Betrivers, PointsBet, and FanDuel is the same in the quality of services. But there are more games available for live betting compared to others.
Pros
A great way to keep your bets interesting and exciting.
Live betting gives you the chance to place bets on a game as it's happening - adding an element of excitement that's hard to duplicate with pre-game bets.
Live betting also means that you can place bets on multiple things at once, which makes it easier to keep track of your chances and keep up with what's going on in your favorite sports as they happen.
Cons
Live betting can be expensive. The odds are unstable, and it is easy to get a big loss.
Live Streaming
The Caesars Sportsbook Ontario is a great place to visit if you're looking to watch sports online. It has a great selection of games, and it's easy to find what you're looking for.
The Caesars Sportsbook Ontario offers live streaming via its website and through its mobile app too! It's also got an easy-to-use interface that makes it easy for anyone who wants to place bets or watch sports online from anywhere around the world with ease.
Caesars odds margin for home/draw/away (1X2) and Draw On Net bets (DNB) on some soccer games:
| Game | Bet | Home | Draw | Away | Margin |
| --- | --- | --- | --- | --- | --- |
| Aston Villa vs. Liverpool | 1X2 | 6.00 | 3.5 | 2.20 | 6.2% |
| Leeds vs. Chelsea | 1X2 | 4.3 | 3.05 | 1.6 | 8.5% |
| Game | Bet | DNB 1 | DNB 2 | Margin |
| --- | --- | --- | --- | --- |
| Watford vs. Everton | DNB | 1.8 | 2.4 | 9.6% |
| Leicester vs. Norwich | DNB | 6.25 | 4.1 | 4.0% |
BetRivers odds margin for home/draw/away (1X2) and Draw On Net bets (DNB) on some soccer games:
| Game | Bet | Home | Draw | Away | Margin |
| --- | --- | --- | --- | --- | --- |
| Aston Villa vs. Liverpool | 1X2 | 6.00 | 2.9 | 2.20 | 6.1% |
| Leeds vs. Chelsea | 1X2 | 4.50 | 3.6 | 1.62 | 8.3% |
| Game | Bet | DNB 1 | DNB 2 | Margin |
| --- | --- | --- | --- | --- |
| Watford vs. Everton | DNB | 2.25 | 2.78 | 7.9% |
| Leicester vs. Norwich | DNB | 6.2 | 4.5 | 3.8% |
Unibet odds margin for home/draw/away (1X2) and Draw On Net (DNB) bets on some soccer games:
| Game | Bet | Home | Draw | Away | Margin |
| --- | --- | --- | --- | --- | --- |
| Aston Villa vs. Liverpool | 1X2 | 6.50 | 3.90 | 2.40 | 6.0% |
| Leeds vs. Chelsea | 1X2 | 4.25 | 3.20 | 1.57 | 8.49% |
| Game | Bet | DNB 1 | DNB 2 | Margin |
| --- | --- | --- | --- | --- |
| Watford vs. Everton | DNB | 2.25 | 2.78 | 7.8% |
| Leicester vs. Norwich | DNB | 6.25 | 4.5 | 3.8% |
Proline+ odds margin for home/draw/away (1X2) and Draw On Net (DNB) bets on some soccer games:
| Game | Bet | Home | Draw | Away | Margin |
| --- | --- | --- | --- | --- | --- |
| Aston Villa vs. Liverpool | 1X2 | 6.00 | 4.50 | 1.42 | 8.6% |
| Leeds vs. Chelsea | 1X2 | 4.50 | 4.00 | 1.61 | 8.4% |
| Game | Bet | DNB 1 | DNB 2 | Margin |
| --- | --- | --- | --- | --- |
| Watford vs. Everton | DNB | 2.30 | 2.70 | 8.25% |
| Leicester vs. Norwich | DNB | 6.2 | 4.5 | 3.8% |
Bet365 odds margin for home/draw/away (1X2) and Draw On Net (DNB) bets on some soccer games:
| Game | Bet | Home | Draw | Away | Margin |
| --- | --- | --- | --- | --- | --- |
| Aston Villa vs. Liverpool | 1X2 | 6.00 | 3.80 | 2.20 | 6.1% |
| Leeds vs. Chelsea | 1X2 | 4.50 | 4.00 | 1.60 | 8.4% |
| Game | Bet | DNB 1 | DNB 2 | Margin |
| --- | --- | --- | --- | --- |
| Watford vs. Everton | DNB | 2.25 | 2.74 | 8.0% |
| Leicester vs. Norwich | DNB | 6.2 | 4.5 | 3.8% |
888 odds margin for home/draw/away (1X2) and Draw On Net (DNB) bets on some soccer games:
| Game | Bet | Home | Draw | Away | Margin |
| --- | --- | --- | --- | --- | --- |
| Aston Villa vs. Liverpool | 1X2 | 6.90 | 4.70 | 1.44 | 8.3% |
| Leeds vs. Chelsea | 1X2 | 5.00 | 4.10 | 1.65 | 8.0% |
| Game | Bet | DNB 1 | DNB 2 | Margin |
| --- | --- | --- | --- | --- |
| Watford vs. Everton | DNB | 3.10 | 1.30 | 9.8% |
| Leicester vs. Norwich | DNB | 1.13 | 5.25 | 9.7% |
Pointsbet odds margin for home/draw/away (1X2) and Draw On Net (DNB) bets on some soccer games:
| Game | Bet | Home | Draw | Away | Margin |
| --- | --- | --- | --- | --- | --- |
| Aston Villa vs. Liverpool | 1X2 | 6.00 | 4.50 | 1.42 | 8.6% |
| Leeds vs. Chelsea | 1X2 | 4.50 | 4.00 | 1.50 | 8.4% |
| Game | Bet | DNB 1 | DNB 2 | Margin |
| --- | --- | --- | --- | --- |
| Watford vs. Everton | DNB | 2.20 | 2.70 | 8.2% |
| Leicester vs. Norwich | DNB | 6.2 | 4.5 | 3.8% |
Fanduel odds margin for home/draw/away (1X2) and Draw On Net (DNB) bets on some soccer games:
| Game | Bet | Home | Draw | Away | Margin |
| --- | --- | --- | --- | --- | --- |
| Aston Villa vs. Liverpool | 1X2 | 6.00 | 4.42 | 1.67 | 7.5% |
| Leeds vs. Chelsea | 1X2 | 4.70 | 4.40 | 2.00 | 7.7% |
| Game | Bet | DNB 1 | DNB 2 | Margin |
| --- | --- | --- | --- | --- |
| Watford vs. Everton | DNB | 2.20 | 2.60 | 8.0% |
| Leicester vs. Norwich | DNB | 6.2 | 4.5 | 3.8% |
Concerning the tables and the soccer games we have selected, we input the odds margin from all the chosen bookmakers, and we are able to deduct this:
Aston Villa vs. Liverpool

Unibet has the lowest odds margin amongst the bookies, while Proline+ has the highest odds margin, and PointsBet also has the same odds margin.

Leeds vs. Chelsea

888 has the lowest odds margin, and Caesers has the highest odds margin, with Unibet having the second highest.

Watford vs. Everton

888 has the highest odds margin, with Unibet's lowest odds margin.

Leicester vs. Norwich

FanDuel has the lowest odds margin, while Pointsbet has the highest odds margin.
How To Bet At Caesars Sportsbook Canada?
Betting at Caesars Sportsbook Canada is simple, but it can be a little confusing at first. Here are some tips for making your first bet as easy as possible:
Log in to your betting account

Go to the Sports section

Find the sport you want to bet on by using the drop-down menu or simply typing its name into the search box at the top right corner of the screen. For example, you select baseball.

Choose which team you want to bet on by clicking on them

Select either "Moneyline" or "Total Points Over/Under," depending on whether you think one team will win straight up or lose by more than 2 points, respectively. You can play other markets available for wager.

After selection, input your wager and submit your selection. It will be processed instantly.

You will get your approved bet ID instantly, and your ticket will be in your bet history.
Caesars Canada Casino Online Offer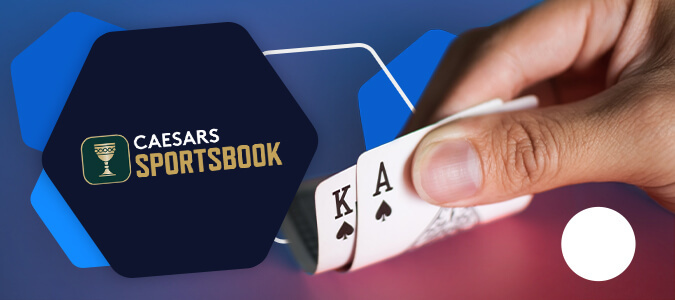 Caesars online casino offers a huge selection of slots, table games, live dealer games, jackpot, and video poker games.
The online gambling offerings at Caesars Sportsbook Ontario are extensive. The list of games includes classic casino favorites like blackjack, roulette, craps, and baccarat. There are no restrictions on the amount you can bet or the number of spins you can make. You can even play several games at once!
Pros
Caesars casino online offers an extensive list of casino game
The casino games have high RTP
High payout rates and great customer service
Cons
Cash-outs are not immediately processed
Types Of Caesars Sportsbook Casino Games
There are many different types of caesars sportsbook Ontario casino games. Still, they can be divided into two categories:
Games where a player has to predict the result
Games where a player has to predict the score differential
The first category includes slot machines and roulette.
In slot machines, players have to guess which symbol will appear on the screen next. Roulette is played by placing chips on various numbers on a table with six wheels that spin in opposite directions and drop randomly into slots marked with numbers from 0 to 36 (or 0 to 00). The ball falls into one of those slots, indicating which number should be marked off on your scorecard and how much you win or lose.
Want to learn more? Don't miss to check 10 tips on how to win at online roulette! As we presume, you may also be interested to find out which online slots payout the most in Ontario.
What is more, you can find hundreds of different kinds of slot machines in any Caesars Sportsbook Ontario casino, including classic slots like Cleopatra's Gold or Double Diamond Deluxe; modern ones like Book Of Ra Deluxe; or even themed ones like Tomb Raider: Secret Of The Sword Slot Machine Game Or Jurassic Park 3D Slot Machine Game. There's something for everyone!
The second category includes card games like blackjack and baccarat.
While playing these games, players bet against each other rather than against the house as in slot machines and roulette. In blackjack, players try to get as close as possible without going over 21 without busting.
Pros
Wide range of casino games available for betting on.
Fast payouts.
Secure website with no viruses or malware.
Cons
When you initiate cash out, it might take time before it drops.
RTPs are simply a measure of how much money you can expect to win, on average, when playing a game. The higher the RTP, the more money you can expect to win. In the case of casino games, however, there are several different ways in which this value can be determined.
The most common way is with a theoretical payout percentage (RTP). This figure is determined by multiplying the possible outcomes by their respective payout odds and then adding them together. The result is then divided by 100 to give a percentage value.
| Casino Game | RTP |
| --- | --- |
| BlackJack | 99% |
| Baccarat | 97.39% |
| Roulette | 98.22% |
| Craps | 97.29% |
| Pai Gow Poker | 99.54% |
How To Sign Up At Caesars Sportsbook In Ontario?
Caesars sportsbook registration is a multi-step procedure that does not pose any difficulty to players. However, there might be a delay for a few seconds when you are bound to receive a confirmation email. It is also to note that players who are not from Ontario province will not be able to create an account.
Proceed to the bookmaker's official website to register an account.

Make sure you click on the "SIGN UP" button at the top right corner of the homepage.

Also, you can click on the Login button, and a form will be displayed which requires you to input your email and password, but that is for returning customers.
You will be required to fill the form with the following personal information.

Ensure that your name is the same as what appears on your passport or driver's license.

After supplying the above information then, click on continue. You'll be redirected to the second stage of the form, where you will be required to provide the information such as password and security questions.

When you are done with providing all the requirements, read the terms and conditions and click on them, which implies you agree with the conditions.

Click on the submit button to proceed to the next page. Your information will be processed by Caesars sportsbook, and it might take a minute or less.
After completing all the above steps, your will be notified that your account has been created.
However, you will need to submit documents which will verify the information you submitted. This includes your passport, driver's license, etc. This step is necessary for your KYC verification for the proper functioning of your betting account.
When you are done with this, you can continue to enjoy your betting activities without any restrictions.
Caesars Sportsbook Mobile App
The Caesars sportsbook app was designed to offer players a user-friendly interface that makes placing bets on their favorite sporting events easy and convenient.
To use the app, players must first download it from either the Apple App Store or Google Play Store. Once downloaded, they can log into their account with their username and password to begin placing wagers.
The Caesar Sportsbook mobile app has a simple layout, with a black background and white text. It does not use any images; instead, it uses symbols for different things like bets and statistics. This makes the Caesar Sportsbook mobile app easy because you don't have to worry about navigating through images or getting distracted by them.
Pros
The software is designed to be intuitive and easy to navigate
Those who are new to online betting will be able to use it without any trouble
App help players to place bet faster and easily
It features a modern color scheme with large icons that are easy to click on
Cons
The application is not available to people outside Canada
Users experience some delay in the network sometimes
Payment Methods
Caesars sportsbook offers a wide variety of payment options. Most of these methods can be used for both deposit and withdrawal. The operator accepts deposits via credit card, debit card, bank transfer, and e-wallet services such as Paypal, Neteller, Skrill, bank wire transfers.
Here is the complete table of payment methods available in the Caesars sportsbook:
Payment Method
Payment Type
Min Amount
Max Amount
Commission
Paypal
Deposit/
Withdrawal
$10
N/A
N/A
Check by Mail
Withdrawal
$10
N/A
N/A
Skrill
Withdrawal
$20
N/A
N/A
INTERAC
Deposit/
Withdrawal
$10
N/A
N/A
Mastercard
Deposit
$10

N/A
N/A
How To Deposit On Caesars Sportsbook?
Depositing at the Caesars Casino Sportsbook is easy. Players can deposit using Visa or Mastercard credit/debit cards or bank transfers through Skrill, etc.
Sign up for an account at Caesars sportsbook

Enter your billing information and personal details on the "Account" page, located in the top right corner of the website

Login to your account with your email address and password

Choose "Deposit" from the menu bar at the top of the screen, then choose "Check Deposit."

Enter your checking account information and choose "Next"

Caesars will verify your account before allowing you to deposit funds into it! This process can take up to 3 business days but often goes much faster than that!
How To Withdraw Money From Caesars Sportsbook?
The payout process at Caesars Sportsbook can be a little confusing at first, but it's actually quite simple. Your preferred withdrawal method will determine the duration at which the money will be deposited in your account.
Login to your account and go to the "My Account" page

From here, you'll see a list of all of your pending payouts.

Click on the payout button next to the amount you want to withdraw.

Choose your preferred mode of payment

Once you do that, you will need to fill out some basic information about yourself and provide proof of identity before submitting your request for a withdrawal.
After submission, your withdrawal will be approved by Caesars sportsbook and ready for processing. The process generally takes less than 48 hours and is completely free!
Customer Support
Caesars Sportsbook's customer care service is dedicated to the satisfaction of their bettors. They are readily available on sites, mobile apps, and social media platforms like Twitter, Facebook, etc.
There is an option of live chat on the site where you can easily reach out if you are in need of any help. Customers can contact support through email or telephone 24 hours a day, seven days a week.
Live help is also available during most hours of operation Monday through Friday between 8:00 am to midnight EST and Saturday from 9:00 am until 6:00 pm EST. Email addresses for support include: support-on@caesarssportsbook.com Phone: 1-866-531-2600.
Users' Security
Caesars sportsbook Ontario is one of the most popular online sportsbooks in Canada. It has a lot to offer players, including a great selection of betting options and a user-friendly interface. However, it's important to understand how safety measures are put in place to protect users' funds at this site.
All deposits and withdrawals at Caesars sportsbook Ontario are made through their e-wallet system and processed through one of the leading payment processors in the industry.
These companies have been around for decades, so they have long history of providing safe and secure payment processing services. In addition, they have a lot of experience with financial transactions involving online gambling sites, so they know what to look out for when it comes to fraudulent activities.
If you're worried about your account being hacked or compromised by someone else, you can rest assured knowing that Caesars sportsbook Ontario has some of the best security measures available today.
This includes using SSL encryption technology on all web pages containing sensitive data (such as credit card numbers) and encrypting all sensitive data (such as passwords). None of Caesars sportsbook employees has access to your database, banking details, password, etc.
Caesars Sportsbook's UX
Caesars Sportsbook Ontario is a mobile betting platform that allows users to place wagers on their favorite sports teams.
The app is available for both iOS and Android devices. The design of the Caesars mobile app has been well thought out, with several features that make it easy to use on your phone, iPad or tablet. The user interface is clean and simple, making it easy to navigate the app and find what you're looking for quickly.
Another great feature of this application is that users will be notified when there are any changes made to existing bets already placed by them to ensure that they are always informed about any changes made by others before those bets go into action later on down the road!
Responsible Gambling
The Responsible Gambling team at Caesars sportsbooks Canada is dedicated to creating a safe and enjoyable gaming experience for all players. Here's how they do it:
They have a dedicated team of trained professionals on hand 24/7 who are ready to help players who may be experiencing difficulties with their gambling.

They can assist by connecting you with support services or simply providing you with the resources you need to get back on track.

Caesars Entertainment has partnered with Connex Ontario to provide free self-assessment tools and resources.

The Connex Ontario offers free educational materials, including a self-assessment tool that helps you determine if you are gambling in an addictive manner. If so, this tool will also help you identify signs of problem gambling, as well as treatment options available in your area.

Caesars sportsbook also has various resources on our website for those who may feel they have a problem with gambling or are concerned about someone else's gambling behavior.

All new players must fill out a questionnaire about their personal experiences and gambling habits. This helps the team to understand each player better and provides a better service.
Our Verdict
Overall, Caesars sportsbook Ontario is a solid betting site with an easy-to-use interface and a good selection of wagers which will appeal to both recreational bettors and regular bettors alike.
Caesars serves as a prime example of online sports gambling. It's a very good place to bet on sports, with a wide array of sports to bet on.
The operator has an excellent mobile app that does an amazing job simplifying the process for new and experienced gamblers alike. The fact that it's compatible with all devices is a big plus, too, as it ensures that you'll be able to access your account from virtually anywhere.
The one thing that we feel would improve the site would be the addition of other sports leagues. The administrators have done a great job creating such a stellar online sportsbook, and we highly recommend it.
FAQ
Caesars sportsbook Ontario is a sports betting site that offers a wide array of sports. The site allows you to place bets on major sporting events, such as football, basketball, and hockey. You can also place wagers on golf tournaments, baseball, soccer, etc.

Yes! It is possible to place bets on the products offered by Caesars sportsbook Ontario. This site has proven its standards and has an excellent reputation for being honest and fair with its customers. The company works hard at ensuring that all transactions are secure and reliable so that players can feel confident placing their bets with them.

Caesar sportsbook Ontario has a mobile application that allows you to use your iPhone or Android phone to access the betting platform. This app is easy to download and install, and it's available in both iOS and Android formats.

Popular American actress Halle Berry plays Cleopatra in Caesars sportsbook commercial.

There's no one "legitimate owner" of the Caesar Sports Book in Ontario. This is because it's not a single entity but rather a group of companies owned by a series of different business people.